World Cup: Uruguay defeat only highlighted how England are often let down by their key men when it matters
At major tournaments all other countries have experienced players that turn up, but England's turn down. Daniel Storey is proud of the kids but frustrated with the rest...
Last Updated: 20/06/14 1:46pm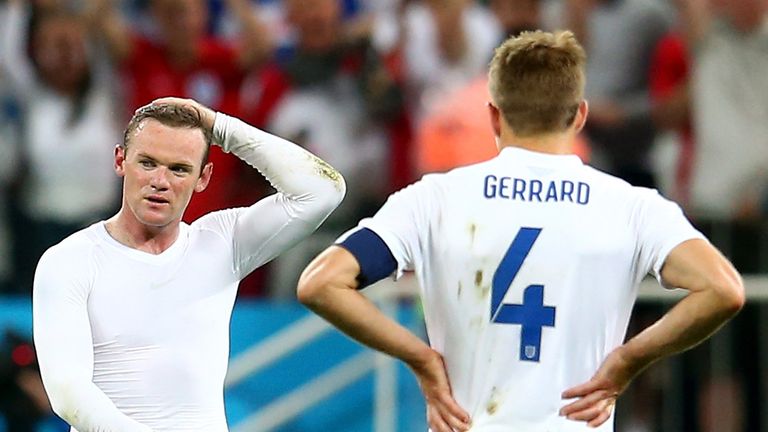 "If you are really going to put him [Luis Suarez] up there with Maradona, Pele, Beckenbauer and Cruyff and Pirlo, this is the stage you have got to do it on. You can be a great player in your league but to be recognised as one of the all-time greats you have got to do it at the World Cup."
Roy Hodgson is not a man of many words, but he must be cursing uttering those particular sentiments three days before England took to the field against Uruguay. Luis Suarez is a brilliant enough footballer without the motivation to prove any opposition doubters wrong, and did so in clinical and brilliant style against an England side now teetering on the brink of World Cup elimination.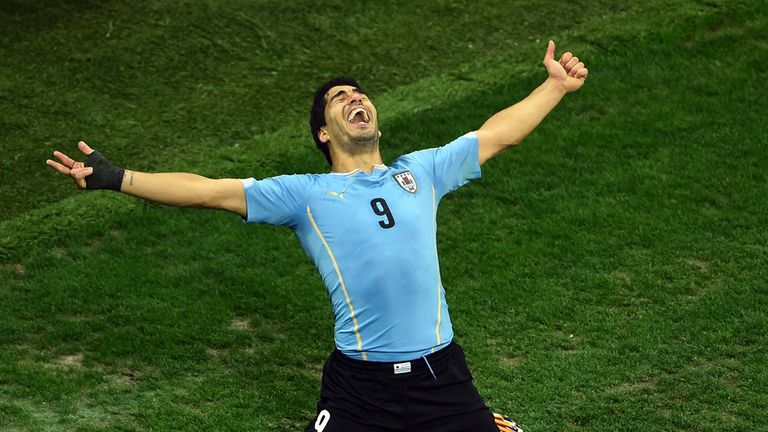 Suarez is also dangerous enough without assisting his goals with unacceptable defensive generosity. The old cliché is that defence wins you championships, and England will surely head home from Brazil with such a sound-bite ringing in their ears - this has been a tough lesson of just how weak Roy Hodgson's side are in dealing with any invention or movement. There have been positive signs in attack during this opening week, but at times it felt like trying to run a bath without the plug secured, any hope of that well-earned soak washed away. 
After the continued positivity following the defeat to Italy, the sad reality is that there isn't a single England player that could be pleased with their night's work against Uruguay. Despite the promises of brio and vibrancy from the start (as on Saturday), England seemed reserved as if somehow overawed by the magnitude of expectation. It is a great deal easier to play with carefree abandon in your first tournament game than your second, especially when the intricacies of qualification become all the more apparent.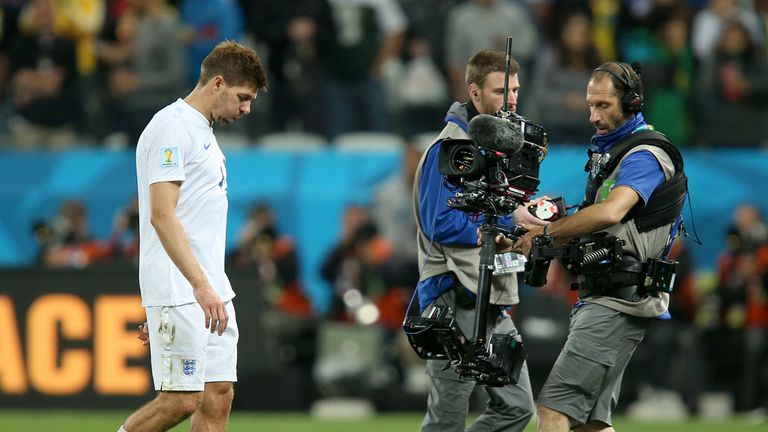 There was a sense of self-doubt on Thursday evening that had been so refreshingly lacking in the Italy game. England seemed stifled on the ball, harried and hassled out of possession during the first half by Uruguay's high press, and then unable to break down the South Americans' resolute two banks of four when allowed to dominate possession and territory in the second. 
For all the discussion of playing in Liverpool's easy on the eye style, Hodgson's side instead resorted to hopeful crosses from deep (usually over-hit) and set piece deliveries (usually under-hit), lacking any belief in the pass-and-move philosophy that had been so demanded in the build-up. They made 31 crosses in the match and yet didn't attempt a single through ball. For large periods this felt more like Bloemfontein 2010 than Manaus 2014.
The defenders are likely to receive the most censure from the inevitable fall-out. Phil Jagielka was caught ball-watching rather than tracking Suarez's run for the first and, ten yards from goals, there was only likely to be one end conclusion. The television pundits claimed that Edinson Cavani's cross "took five players out of the game", but in reality he merely aimed for the striker allowed to run free. And that striker scored. Because he's brilliant.
Out of sorts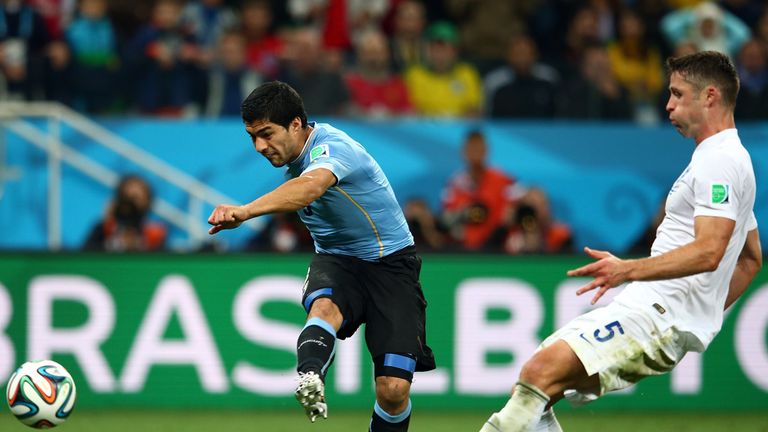 The full-backs, too, looked out-of-sorts and uncomfortable at the highest level. Mario Balotelli's goal on Saturday came from Leighton Baines' inability to put pressure on Antonio Candreva, and the same can be said of Glen Johnson against Cavani in the opening half hour. It may seem hyper-critical, but this is the World Cup - at the highest level anything less than exceptional is immediately made unsatisfactory because mistakes are so much more likely to be punished. Oh for Ashley Cole and Gary Neville.
However, the most striking conclusion to draw is that, once again, it is the senior players that have let England down. Look around at the other teams in the tournament: Robin van Persie and Arjen Robben for the Netherlands, Luis Suarez for Uruguay, Tim Cahill for Australia and Karim Benzema for France. Whilst every other country expects their best and most experienced players to turn up for major tournament, once again England's have turned down. 
Captain Steven Gerrard was a source of intense frustration, his tournament epitomised by the five stoppage time minutes on Thursday evening during which he over-hit a cross, got caught out of position and fired a shot comfortably wide with better options around him. He was imperious during the qualifying campaign, but when required to drag England through was left with nothing but the occasional Hollywood pass. His assist for Uruguay's second was bordering on unfortunate, but this is just another ending England career with many more troughs than peaks.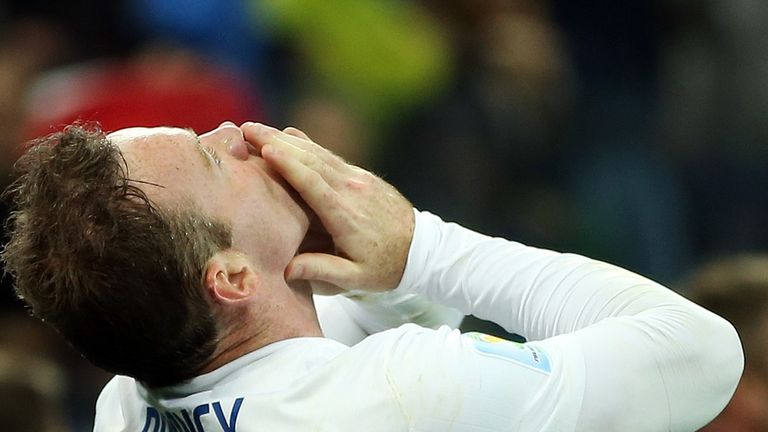 Wayne Rooney too, again flattered to deceive. He finally scored his first World Cup goal at the tenth time of asking, but shot straight at Fernando Muslera from close range and sent a header onto the bar from even pointer blank. Revolving the team around its potentially best player was an understandable move from Hodgson, but Rooney is another senior player that seems incapable of mirroring club form on the biggest of international stages.
It has been the same for too long. The two tournaments since Euro '96 in which England have created a sense of belief and hunger were World Cup '98 and Euro 2004, where 17-year-old Michael Owen and 18-year-old Wayne Rooney were the catalysts. Every other major country expects the inexperienced players to follow the example of the senior players, but in England we expect them to forge their own path whilst those experienced heads appear to be a mixture of unfit, unfresh or uninterested.
Entrenched
It's now become so entrenched in the psychology of our national team that we even tried to give it a positive spin in the build-up to Brazil. "It's brilliant because we have got lots of kids in the team," we claimed, a weak façade for the deduction that we simply had no-one else on which we could rely, several times bitten and twice shy over the belief that our experienced heads would step up to the plate.
Rather than expecting Rooney and Gerrard to deliver, we instead piled the pressure on Raheem Sterling and Daniel Sturridge. The Liverpool forward pair are perhaps the only two that can legitimately walk out of this tournament with their heads held high, and yet it is these two who will be the inevitably left as the most tarnished, tarred by the brush of England sporting failure.
The likes of Sterling and Sturridge were never supposed to be our principal hopes, merely the supporting cast. And yet we have forced them into the limelight because the leading actors fluffed their lines yet again. It's beginning to grow very weary indeed.
All hope is not yet lost, and England could still progress through to the knockout stage if results go their way. However, just like four years ago, it would simply be a prolonging of an inevitable ending. More fool us (again) for ever believing any differently.