World Cup: Costa Rica show the merits of teamwork
Costa Rica managed to shackle Uruguay and Italy through hard work, belief and discipline. Daniel Storey describes this World Cup's greatest good news story...
Last Updated: 23/06/14 11:26am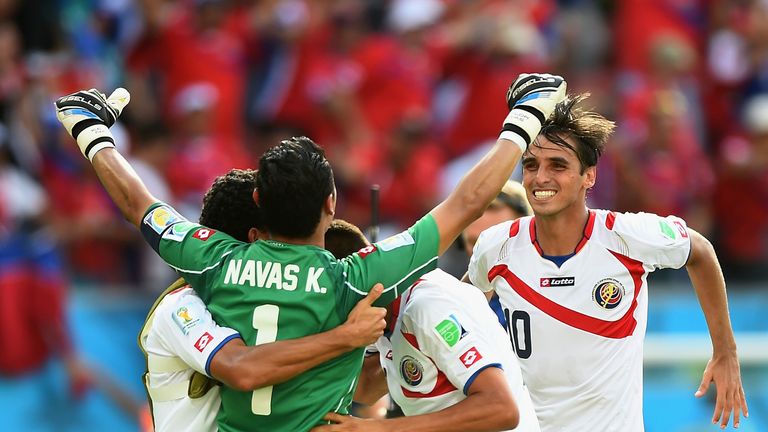 Despite the overwhelming disillusionment of Thursday evening, Friday morning brought inexplicably-renewed optimism for England fans. If Italy could do us two favours and we beat Costa Rica next Tuesday, England would have an undeserved lifeline to keep us believing for yet another match.
It seems that we are footballing sadists, clamouring for more intense distress - it's not the disappointment that kills you, it's the hope.
However, those still clinging to any semblance of optimism were drastically under-estimating the performance, fight and quality of the forgotten team in England's group. Jorge Luis Pinto's Costa Rica team sat top of the group going into their second match against Italy, and yet had been treated almost like a fly on a hot summer's day, a feint buzz of annoyance easily swatted away and silenced. With England's plane now sat with engines running, perhaps now we can give the Costa Ricans the praise they so rightly deserve.
This is a team the polar opposite of England. The coach is an explosive and demonstrative character, and his side is one not exclusively made up of domestic stars but instead spread liberally across world football, globetrotters spread as far east as Russia, north as Norway and west as Ohio - clubs from eleven different countries sent players to Los Ticos' World Cup team. Rather than established stars, Pinto instead relies on a powerful team spirit and work rate in order to make the team greater than the sum of its parts.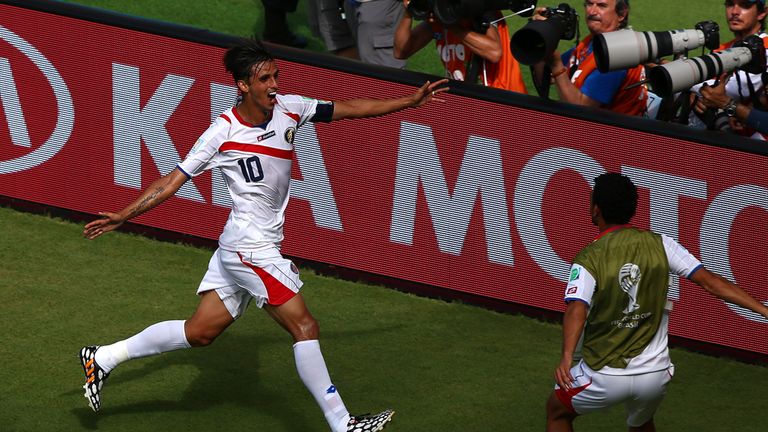 It was summed up perfectly by midfielder Celso Borges before the tournament: "Most bookmakers will have Costa Rica coming bottom of the group," Borges told Reuters. "I understand it, but I don't accept it. Once the game starts, if we have a good game plan it's about strategy and about will. If you really want to prepare in an international manner, you can do it. The highest demands you can have are of yourself. It doesn't matter which league you play in." Amen to that.
We had been warned by their impressive victory over Uruguay, but were still left astonished. Unlike England, Costa Rica were able to strangle the Italians, utilising a high press in midfield from the off, harrying Andrea Pirlo, Daniele De Rossi and Thiago Motta in possession in an attempt to cut off the danger at source. Such a tactic did leave room in behind for Mario Balotelli to run behind, but the striker missed his two first-half opportunities as the Costa Ricans rode their luck - Los Ticos were always going to need their share of fortune.
Most impressively, Costa Rica managed to stifle the usually irrepressible Pirlo. The midfielder made 108 passes against England on Saturday, but in Recife managed just 33 passes during the first half, as Borges and Yeltsin Tejeda continuously aimed to suppress his majestic passes. Of course one or two escaped through, including a wonderful lifted through ball to Balotelli.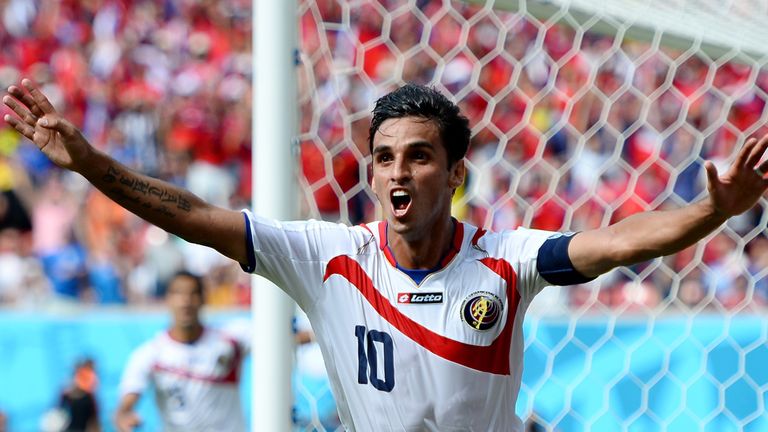 Just before the break, they took their deserved lead, a wonderful cross from Junior Diaz finding the head of captain Bryan Ruiz, who scored with the help of the crossbar and goal-line technology. Just five minutes beforehand, Joel Campbell had been taken down by Giorgio Chiellini, Chilean referee Enrique Osses inexplicably turning down vociferous appeals. Justice is rarely served so quickly.
Assists from full-backs (Serge Aurier, Ricardo Rodriguez and Daley Blind all have more than one) have very much been a feature of this tournament thus far, and Diaz's cross was as good as any, making the defensive might of Chiellini and Gianluigi Buffon look foolish. 
Disciplined
If the neutrals expected a second-half resurgence (and England fans prayed for Italian response), they were left disappointed. Italy looked blunt and ineffective despite Cesare Prandelli's early substitutions, and the Costa Rican defence kept a wonderfully disciplined line, catching an Italian offside on ten different occasions, more than any other in this competition so far. Even as the unthinkable finishing line came into view, a collective determination kept any danger at bay. 
This has been no smash-and-grab, no plucky effort, simply a team outperforming those of infinitely greater reputation and standing. Forget Messi's goal, Robin van Persie's diving header or the worshipping of Neymar, for this is the story of the World Cup so far. Even England fans cannot deny that.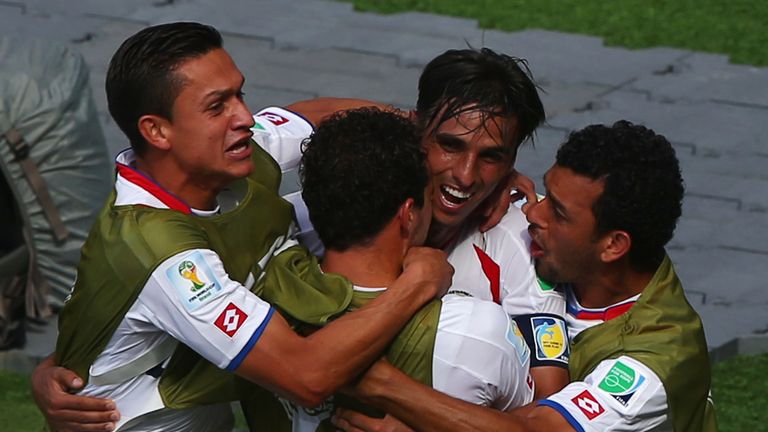 In the build-up to the Italy match, Costa Rica coach Pinto expressed his disdain for the disrespect shown to his side quite beautifully: "At the beginning, some people said that we were the worst and that we wouldn't even get one point. Other people said that Spain would play the final against Brazil. That will not happen now.
"Yes, we are in the 'group of death' and that's because the four of us are really good. We are thinking about ourselves and what we can do, how we can improve our tactics, our play with the ball, our transitions and our mistakes from the Uruguay game. That is all."
It's difficult not to admire such confidence, now proved to be more than justified. This may have been labelled as the group of death, but this unfancied side are the first to escape alive. After watching England's expensive stars fail to deliver once more, the successful product of hard work should be something we can all get on board with.