World Cup: With the number of bookings suprisingly low are referees in Brazil being too lenient with players?
With many are praising a free-flowing tournament, one reason overlooked has been the part of the referees. Daniel Storey feels there's a difference being letting it flow and failing to enforce the laws of the game...
Last Updated: 23/06/14 11:37am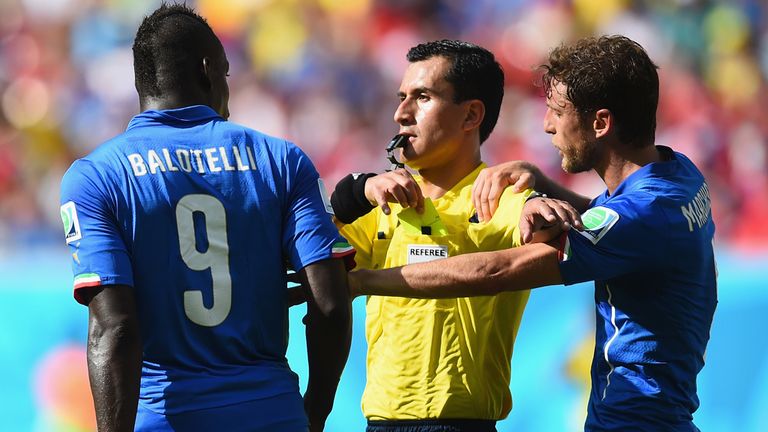 One of the benefits of watching every minute of a World Cup is that patterns emerge, and Brazil 2014 has been no different.
Firstly, the impact of attacking full-backs has been notable, with Ricardo Rodriguez, Serge Aurier, Daley Blind and Walter Ayovi (all playing at full-back) four of the six players in the tournament credited with more than one assist. 
Another is the lack of goals from long range, Lionel Messi's for Argentina against Iran only the tenth from outside the area of the 83 goals scored at the time of writing - just 12%. Given that one of those was the shot from Lee Keun-ho that Russia's Igor Akinfeev threw into his net and that the comparative figure for the Premier League last season was almost half as much higher again at 17.9%, it's a marked difference.
However, one conclusion stands out more than most as we reach the halfway point of the tournament, namely a distinct leniency from the officials throughout the competition. Where are all the cards? 
So far during this World Cup, bookings have been issued at a rate of 2.69 per match, more than one booking fewer than in South Africa and an astonishing 2.7 fewer per match than during the 2006 tournament in Germany. In fact, this the first time that cards have been issued at a rate of fewer than three per game since Mexico '86.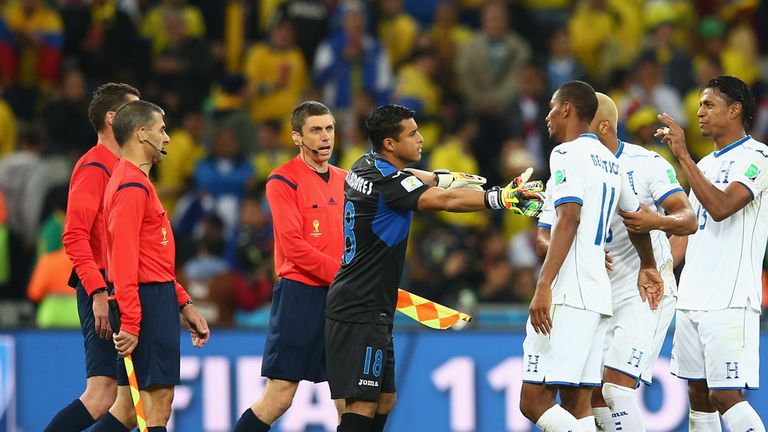 One counter-argument to that could be that we should be less likely to see cards during the early stages of the tournament, because the risk-reward of committing a foul deserving of censure is lower in the opening matches than in the knockout stages - one would normally expect to see more cards being issued as the importance of a match increases, and there were more fouls in the 2010 final between Spain and Netherlands than in any other during the tournament. Nevertheless, whilst the first 17 matches of the last World Cup produced 56 bookings, that figure drops to 44 in Brazil, a fall of over 20%.
In comparison with the domestic game too, this level of 2.69 seems strikingly low. Bookings were given out in the Premier League last season at a rate of 3.25 per match, but this is one of European football's lowest figures. In Spain's La Liga, for example, that figure was as high as 4.81. La Liga's 'cleanest' side, Real Madrid, collected just six bookings fewer than the Premier League's dirtiest, Aston Villa. 
Physical approach
It isn't as if teams have simply been taking things steady, either. Ecuador v Honduras on Friday evening was a match in which both teams seemed intent of leaving their literal mark on the opposition, with Honduras doing exactly the same in their first match against France. Uruguay's physical approach against England was also notable, whilst Japan v Greece was another game that could be relevantly filed under 'hard-fought'. Neymar elbowed an opponent in the opening game against Croatia and yet was only booked, whilst time and again challenges from behind or shirt-pulling to halt counter attacks have been merely punished with free-kicks.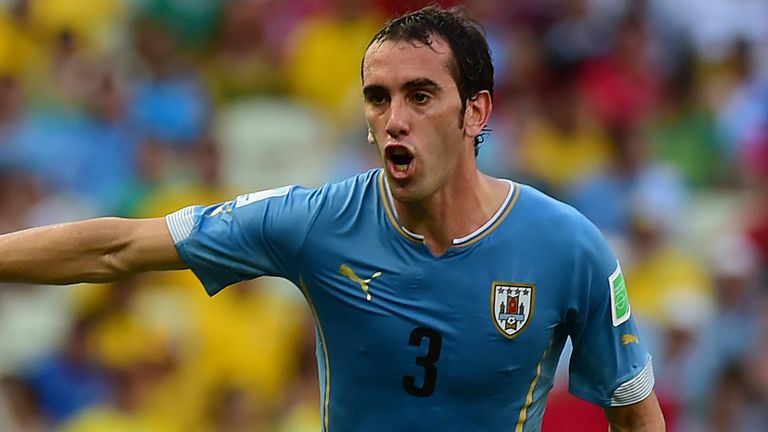 It seems, therefore, that FIFA have given a remit to referees to be lenient in their decision-making - the number of bookings simply just doesn't decrease that sharply without intended intervention - and many may see that as a positive move. Suspended players (particular in the latter stages of tournaments) seem often to be afforded a bizarre sympathy as if their accumulated misdemeanours were to be blamed on some vague external factor rather than the ill-discipline of the individual, and there appears to be a communal wish that the best (or at least most high-profile) players are available for showpiece occasions. Of course that is understandable, and there is little more frustrating than a pedantic, over-zealous official. Leniency is typically preferable to severity in the minds of the viewer.
However, there is a sense so far in Brazil that the urging of leniency has been taken too far, teams taking advantage of generosity in order to implement a strategy of cynical fouls and rough-housing. Honduras have been the worst offenders, lunging late into challenges against both France and Ecuador but receiving just six bookings (including the second yellow received by Wilson Palacios), whilst Diego Godin somehow avoided a second booking against England despite an offence clearly worthy of the punishment.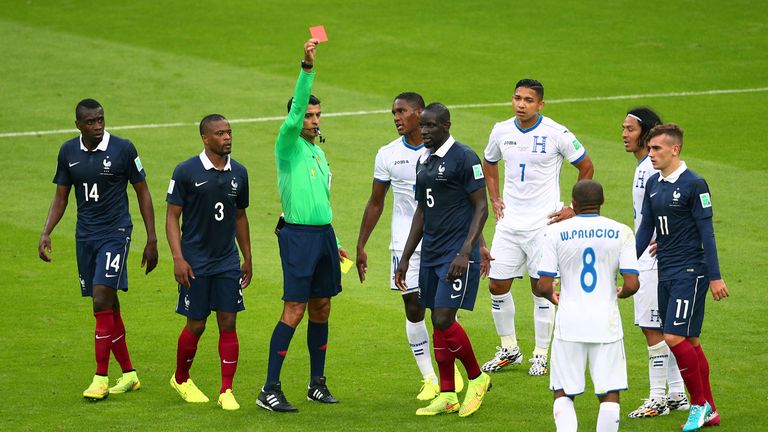 Costa Rica too, have been smart with their rule-breaking, somehow gaining just one yellow card despite making 41 fouls in their two games. Aston Villa last season received a caution for less than every five fouls they committed - Los Ticos have managed to escape with a figure eight times that. 
It is also important to note that players' safety is at stake. Clint Dempsey had his nose broken by a high foot from Ghana's John Boye, whilst Switzerland's Steve von Bergen had his tournament ended after being kicked in the face by Olivier Giroud. Von Bergen broke his cheekbone, but Giroud received nothing more than a talking to. 
FIFA's laws state that: 'Playing in a dangerous manner is defined as any action that, while trying to play the ball, threatens injury to someone (including the player himself). It is committed with an opponent nearby and prevents the opponent  from playing the ball for fear of injury. If the action is made with obvious risk of injury, the referee should caution the player.' It may feel as if I am waving my imaginary card towards a number of individuals, but the laws cannot be relaxed to a level that fails to protect players.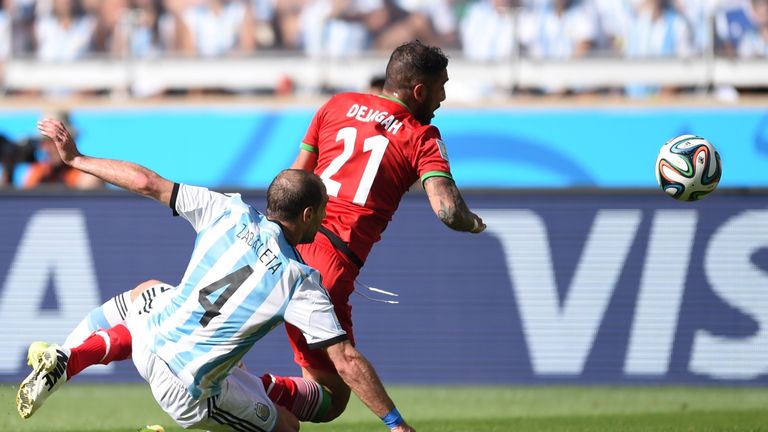 It isn't just mistimed challenges that are going unpunished. So far, only two cards have been issued for dissent, and yet we have repeatedly seen players remonstrating  with officials, confident that there will be little recompense. During Argentina v Iran on Saturday, Ashkan Dejagah laid both hands on referee Milorad Mazic during his appeals for a penalty against Pablo Zabaleta, and yet was not even cautioned for the incident. 'A player who is guilty of dissent by protesting (verbally or non-verbally) against a referee's decision must be cautioned,' the laws state, but again they have been completely ignored.
Finally, given the widespread play-acting and simulation on show in Brazil, we are yet to see a single card issued for diving as we reach halfway in the World Cup. What would the odds have been on that?
It may all sound like a fairly severe case of griping on my part, but part of FIFA's remit is surely to protect the world's best players from the risk of deliberately-inflicted injuries and to ensure that its oft-repeated mantra of RESPECT is administered throughout the game. Instead, by allowing referees to show far greater leniency, they have invited a physical free-for-all in which tactical cynicism is allowed to breed.