Head to head: Pogba v Kroos
We preview a key head-to-head battle in the World Cup quarter-finals between two star men who will also be lighting up the UEFA Champions League live on Sky Sports next season. Here, we analyse the midfield maestros of France's Paul Pogba and Germany's Toni Kroos
Last Updated: 03/07/14 12:02pm
PAUL POGBA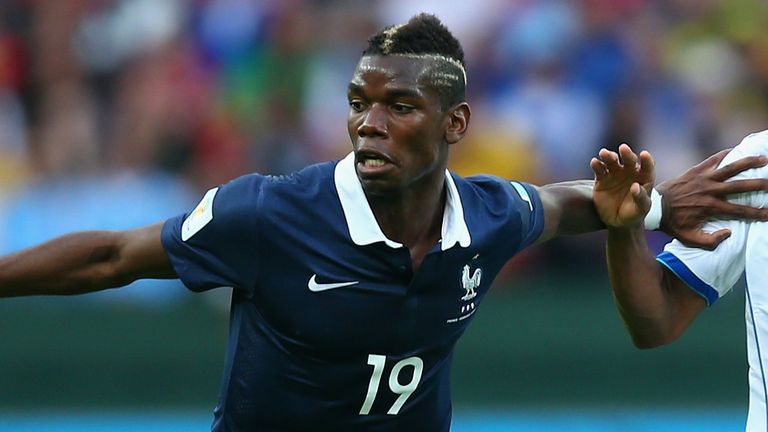 Age: 21
Nationality: France
Club: Juventus
Position: Midfield
STRENGTHS
After helping Juventus run away with the Serie A title to ensure their place in next season's UEFA Champions League, Pogba is now providing a creative spark in France's midfield as they prepare to take on Germany in the World Cup quarter-finals. The former Manchester United player scored in the last 16 defeat of Nigeria and also has an assist to his name this summer. Indeed, the athletic and powerful Pogba's greatest strengths are with the ball at his feet, averaging 2.5 shots per game and 2.3 successful dribbles per game in Brazil. 
WEAKNESSES
Pogba's versatility makes him not far off the complete midfielder but, at his tender age, there is obviously room for improvement. His passing is not the best and he has averaged a success rate of only 83.7 per cent at the 2014 World Cup. However, the greater freedom he is enjoying when in France's side compared to Juventus means he has more of an opportunity to express his strengths.
RUMOUR MILL
There is on an almost daily basis a new update about the future of Pogba. The weak state of Italian football at present means the midfielder is regularly linked with a move away from Serie A and he has been reported as a target of Chelsea, Arsenal and Paris Saint Germain. However, Pogba's agent, Mino Raiola, was recently quoted as telling Italian TV station Rai Sport: "We have decided not to speak of the transfer market with regards to Paul until after the World Cup. But I can calmly say that his future will still be at Juventus, where he feels very happy."
    
World Cup 2014
    
Goals
    
Assists
    
Passing Success (%)
    
Shots Per Game
    
Paul Pogba
    
1
    
1
    
83.7
    
2.5
      
TONI KROOS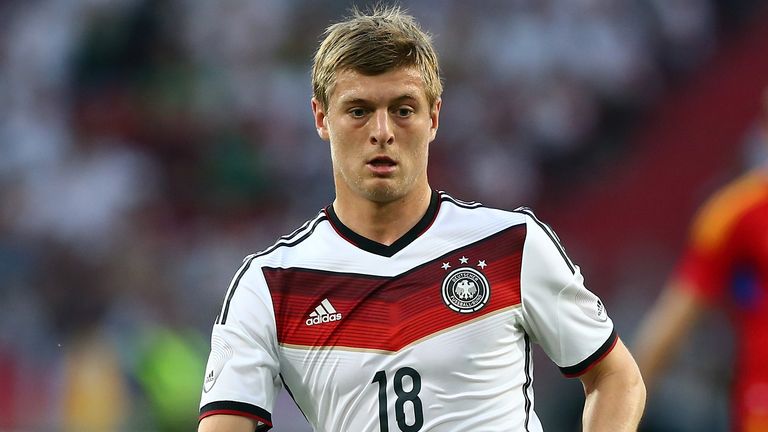 Age: 24
Nationality: Germany
Club: Bayern Munich
Position: Midfield
STRENGTHS
While not necessarily the spectacular type of player to attract widespread fandom, Kroos should rightly be considered one of the best and most complete midfielders in the world. The 24-year-old was an important part of Bayern Munich's rise to dominance in Germany and Europe over the past couple of seasons and has been continuing to show his class at the World Cup finals. Averaging two key passes and almost 100 passes (98.5) per game demonstrates the influence Kroos has had on controlling and dictating proceedings in the centre of the pitch this summer. Only Italy's Daniele De Rossi averaged more passes (106) and that was only in two games. Not only that but Kroos' passing in Brazil comes at a success rate of 91.4% while we have seen in the past his shooting ability from long range.
WEAKNESSES
CHAMPIONS LEAGUE
Watch Paul Pogba and Toni Kroos in Champions League action next season on our new channel - Sky Sports 5. Activate now
Kroos is capable of playing in a vast array of positions in midfield and also has the nous of a playmaker, which makes it almost impossible to pick a weakness. Perhaps his only shortcoming would be his pace and he has been dribbled past by an opponent four times at the World Cup. But that is far from a major concern.
RUMOUR MILL
Kroos' future fills as many, if not more, column inches as Pogba. With his contract discussions with Bayern Munich still not concluded, the midfielder is regularly linked with a move to Manchester United. The story refuses to go away but Kroos said in a statement to BILD at the end of May: "I am expecting to play for Bayern Munich next season. There was a lot of speculation but Manchester is, and was, not an issue."
    
World Cup 2014
    
Assists
    
Key Passes Per Game
    
Passes Per Game
    
Passing Success (%)

    

Toni Kroos
    
1
    
2
    
98.5
    

91.4