Brazil at home in Teresopolis
Sky Sports News reporter Geraint Hughes reports from Brazil's training camp ahead of Friday's World Cup quarter-final against Colombia
Last Updated: 01/07/14 11:24pm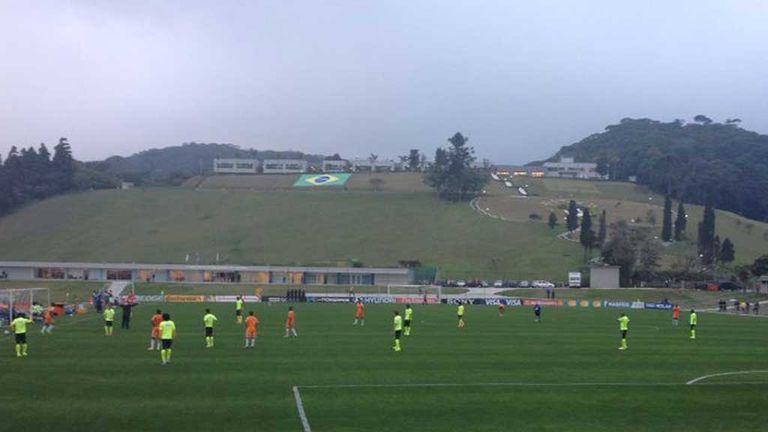 England have St George's Park. Brazil have Teresopolis. Wow, what a name! Teresopolis. It makes me think of Orson Wells' cinematic masterpiece Metropolis which is so far removed from the reality of Brazil's training camp it's ridiculous, but the name just evokes such an image.
Anyway, Teresopolis is Brazil's home from home, a place about two hours; drive from Rio where the squad has everything they could possibly want and need and where the utterly insatiable appetite of the Brazilian media can be fed.
It's more Swiss Alps than Copacobana as ski-style chalets line the hills, it's the most unusual setting. Very un-Brazilian.
On the football front, it was all eyes on Neymar. He picked up a few knocks during the game against Chile; knee and thigh injuries which the Brazil camp think referee Howard Webb should have clamped down on more.
Chelsea midfielder Ramires told the assembled media that Neymar needs only protection from the referee. If someone deliberately fouls him it should be a yellow card and from that point it's difficult for them to hurt Neymar again as, if they do, they'll be sent off.
Clearly a dig at Webb and a warning to whoever takes charge of Fridays quarter-final against Colombia.
Neymar did make an appearance at training, he cycled down from his hotel room to the gym area in front of the main training pitch, but he didn't kick a ball.
Clearly wearing strapping and maybe a hint of a hobble, he wandered down to sit on the coaches' bench where he chatted with Luis Felipe Scolari and David Luiz. He seemed happy enough.
Screams of adulation from fans who had gathered and who were watching from 200 metres away were heard by the 22-year-old.
He gave a gentle wave and smile. That's all that was needed, the crowd went home happy. They'll desperately hope Neymar will recover and recover quickly.