Ill-feeling reignited by Mineirazo massacre as fans vent their frustrations
A nation's unrest was reawakened as supporters both inside and outside of the stadium vented their frustrations as host nation Brazil were humbled 7-1 by Germany in Belo Horizonte
By Pete Hall, from Belo Horizonte - @PeteHall86
Last Updated: 09/07/14 12:59pm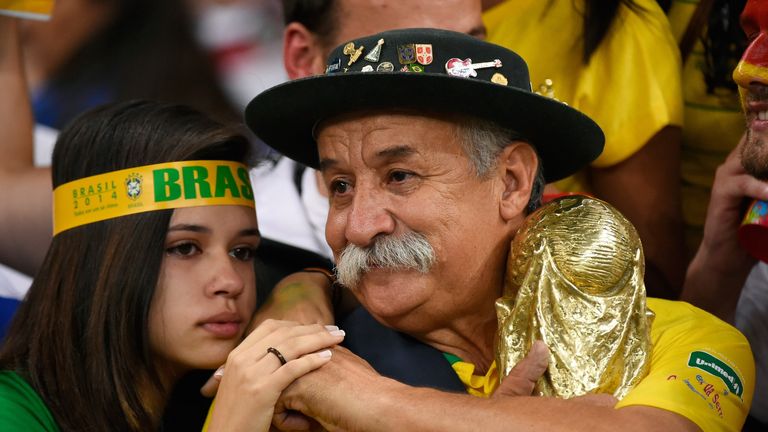 The place was awash with yellow and green. Even without a nation's darling, the Selecao's fervent following believed they could do it. Avenging the painful Maracanazo of 1950 was achievable.
Within half-an-hour of the most bewildering of World Cup semi-finals, their dreams were in tatters, as the Estadio Mineirao terraces vented a collective anger at conceding a fifth goal to an unstoppable German force. There was to be no redemption. 
Post-watershed anti-government chants echoed around the ground throughout the second half, with police struggling to contain a nation's people without a World Cup trophy bid to distract them from the social and economic problems rife in Brazil.
President Dilma Rousseff may have a baying mob to deal with in the aftermath of this massacre, as fans urged each other to "unite" against her "tying the bonfire".
"Dilma does not mention the accident in Belo Horizonte," one fan told me pre-match, referring to the tragic bridge collapse in the city last week.
"We see on the news Neymar is in hospital, in a helicopter, but what about what happened to the bridge?"
Ranging from demanding 'Dilma' resign to the less dignified proposal that she do something altogether more unseemly to herself, fans were united in the subject of their ire as 7 (SEVEN) goals flew past Julio Cesar in the Brazil goal. To put last night into context, only Haiti and Zaire have previously gone into half-time trailing 5-0 at a World Cup match.
Optimism had increased in the ground before kick-off as home favourite Bernard's name was announced in the starting XI, but the former Atletico Mineiro trequartista had no answer to the midfield omnipresence of the Germanic juggernaut.
The match began with a typically raucous national anthem. As it did in Fortaleza against Colombia, such heart rendered patriotism seemed to give the host nation added impetus, having more than matched Germany in the opening ten minutes.
However, abject marking from a corner ended any early momentum as Thomas Muller was gift-wrapped his fifth goal of the tournament. Yet, the hosts were still blissfully unaware of the horror peeping over the horizon.
Muller's record is simply astounding for a man of only 24. His strike was a tenth goal in as many World Cup matches. Miroslav Klose's record-breaking goal, Germany's second on 23 minutes, may one day be overtaken by his compatriot.
Thiago Silva's absence turned out to be far more significant than that of Neymar, as Germany's attacking midfield trio of Toni Kroos, Mesut Ozil and Muller picked apart Luiz Felipe Scolari's men at will.
And with Sami Khedira powering his way through a meek Brazilian spine, the hosts simply had no answer.
Such surrender caused uproar in the stands, as a minority took out their frustrations on whoever was in the vicinity. Even the media were not immune to the torrent of abuse coming from those in yellow.
If this is how wealthy Brazilians, the only ones who could afford a ticket to the match, reacted to their humiliation, then what chance does Dilma have when those less privileged look for a target to exhaust their anger?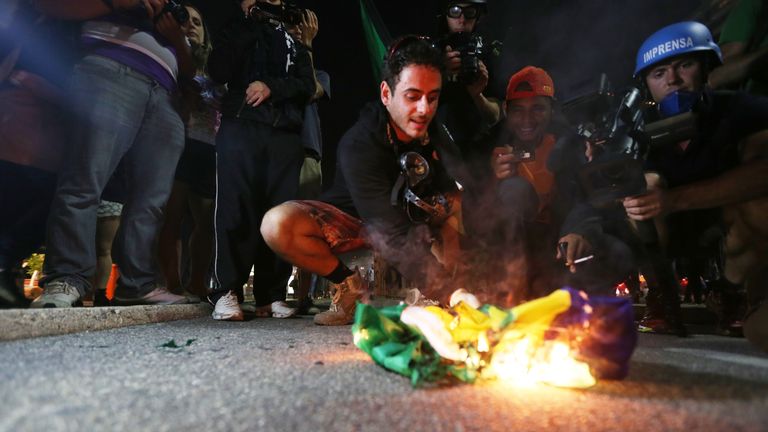 The middle classes are the danger. They are the demographic more aware than most of what is going on in government.
Allegations of bribery to keep those in the Favelas content have angered them even more. In an election year the threat of the kind of protests that were prevalent pre-tournament, along with those that marched on the Maracana for last year's Confederations Cup final, is very real.
In a city saturated in glory of late, with both Cruzeiro and Atletico Mineiro earning domestic and Copa Libertadores honours respectively, humiliation will not sit well with the Belorizontinos.
But with a squad deprived of any attacking talent other than Neymar, it may be some time before the Selecao can give the people of Brazil hope again.
"It was the worst day of my life," Scolari conceded post-match.
But it is Dilma, and the authorities, who could be in for much worse in the days, and weeks, to come.