Steven Gerrard international retirement: England captain deserves our admiration and will be missed in midfield
Steven Gerrard's decision to retire from England duty is unlikely to be lamented by all after a disappointing World Cup but his contribution was significant and the replacements are underwhelming, writes Adam Bate.
Last Updated: 21/07/14 5:35pm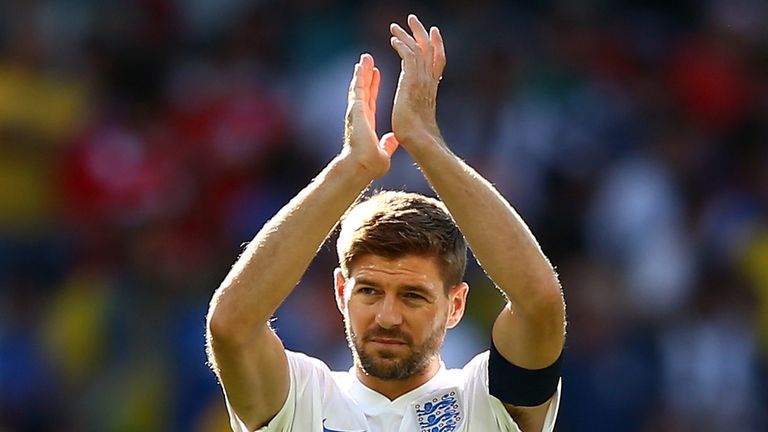 "He is an incredible man and a fantastic footballer who we have all been blessed to see in an England shirt so often.
"It is never by coincidence that people reach such a staggering figure as 114 caps, it is a mark of his wonderful talent allied to a huge drive and determination to live up to the highest standard."
Roy Hodgson's assessment of Steven Gerrard's England career that accompanied the announcement of his international retirement was effusive in its praise of a fine player. But even Gerrard himself is likely to have mixed feelings about his time in an England shirt.
Indeed, the 34-year-old midfielder spoke of "agonising" over the decision. While his battle for Premier League glory with Liverpool goes on, he has been forced to admit defeat with his country.
Perhaps it's natural that Gerrard and others will question his status in history, leaving as he does after leading England to a bottom-place finish in their opening World Cup group for the first time ever. And yet, despite an underwhelming tournament, the real irony here is that he exits while still conspicuously deserving of his place.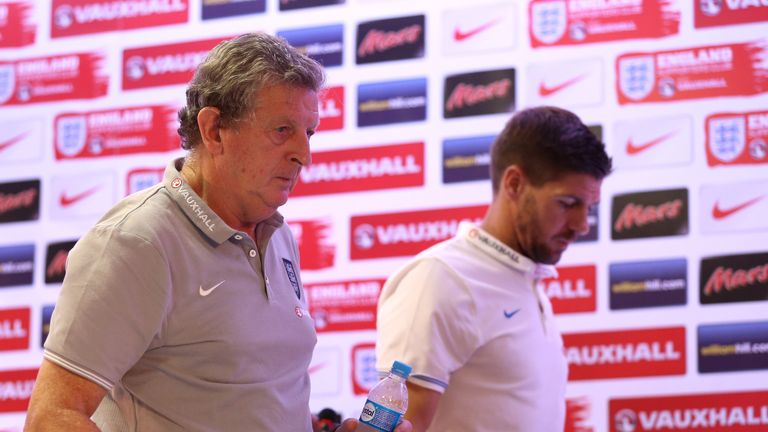 There were times, even in his prime, when the battle for an England midfield spot was a discussion that had to include the relentless goalscoring prowess of Chelsea's Frank Lampard and the more subtle gifts of Manchester United's Paul Scholes.
A decade on and while it's superficially amusing that he departs in the same summer that long-time rival Frank Lampard's England career is likely to end, the more worrying situation is that holding midfielders ready to fill the slot he's vacated in the team are not exactly forming a queue.
When us amateur England managers take to social media to draw up our new look England midfield it comes with an unpalatable dollop of guesswork and a finger in the air in the desperate hope of detecting which way the St George's Park wind is blowing. The answers are not obvious.
Options
Much is expected of Jack Wilshere, a player who aside from anything else is believed to see his future in a more advanced role. In contrast, Alex Oxlade-Chamberlain might embrace the challenge but is frequently used further forwards – if at all – by his club manager Arsene Wenger. Phil Jones might be asked to play there but is widely regarded as England's central defender in waiting.
Other than that it's either the forlorn hope that Jack Rodwell's stunted development gathers a semblance of momentum or gambling on an hitherto unheralded youngster to emerge. In a nutshell: Gerrard could be the only English holding midfielder in this season's Champions League.
Of course, staying because there's nobody ready to replace you – while surely fundamental to the concept of international sport – is also a thankless task. With Gerrard's mobility fading and an England manager unable - by skill, will or alternative options - to mask this as effectively as Brendan Rodgers has done for Liverpool, this feels like the right time for the player himself.
A return to Champions League football will undoubtedly have been a factor too. Gerrard could have held on for an international appearance record by picking up cheap caps in what ought to prove a relatively painless qualification process for a bloated Euro 2016, but he has decided against it. That's to his credit.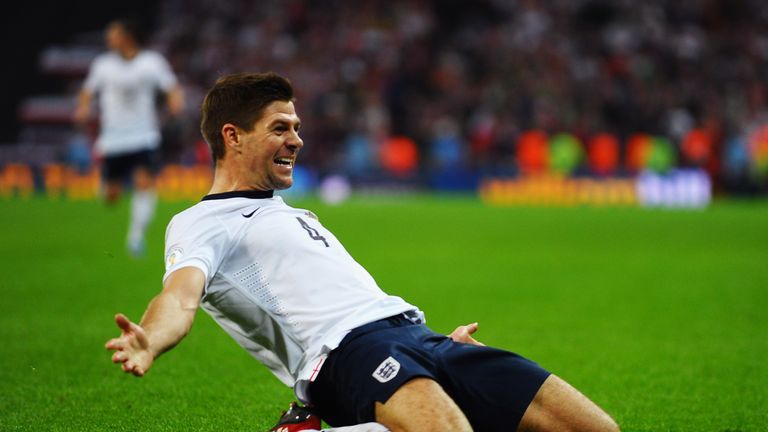 "He is not only a player to bring crowds to their feet with moments of brilliance," added Hodgson. "He was a tremendous captain and an exceptional role model for everyone who was fortunate to come into contact with him. We shall miss his leadership qualities."
That Wayne Rooney and Gary Cahill head an alarmingly short list of alternatives speaks volumes for the current paucity of senior figures in this England team. Whoever is chosen, they, like Gerrard, will doubtless have to enjoy and endure the captaincy. Like political careers, they all end in failure.
That was even true of Bobby Moore's time in the role, but while Moore had the not insignificant bonus of a World Cup win to accompany his own century of caps, that's not something Gerrard can count on and explains why he doesn't see himself as an England legend. It doesn't mean he's right.
Memories
After all, that criteria necessitates a shortlist of just XI candidates from the only summer the greatest show on Earth came to these shores. From Sir Tom Finney and Sir Stanley Matthews to Kevin Keegan and Peter Shilton, it ought not to prevent warm memories and healthy respect.
And there are fond memories. Most notably, the drilled strike that put England ahead for the first time in that 5-1 win over Germany in 2001. Injury subsequently denied Gerrard the chance to play in the following year's World Cup in what he might look back on as being his best chance for an England tournament win, but he still bounced back to score for his country in both 2006 and 2010.
In doing so he joined seven others in the list of players to net for England in more than one World Cup. Sir Tom Finney, Sir Bobby Charlton, Sir Geoff Hurst, Martin Peters, Gary Lineker, David Beckham, Michael Owen and Steven Gerrard. That's the company he keeps. And that's the reason Gerrard will be missed more than some yet realise.