Massadio Haidara hopes Yohan Cabaye will remain at Newcastle
Newcastle defender Massadio Haidara has urged Yohan Cabaye to stay after the Frenchman hinted at a summer move.
Last Updated: 12/06/13 11:28am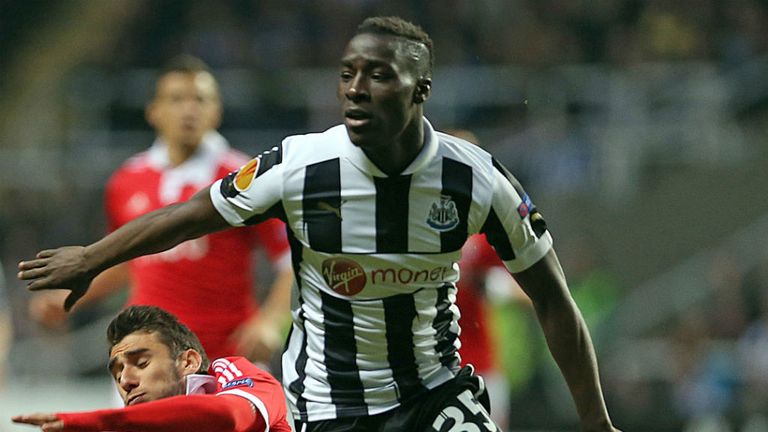 Cabaye's impressive displays helped Newcastle pull away from the drop-zone last season, but there are question marks about his future at St James' Park after he expressed interest in a move to Manchester United.
Newcastle rejected an enquiry from Tottenham about Cabaye last summer, while Monaco and Paris Saint-Germain are also thought to be keen to lure him back to his home country.
But Haidara hopes Cabaye will stay on Tyneside as he admits his compatriot helped him find his feet in the Premier League.
"Of course I want Yohan to remain at Newcastle United this summer," he told The Journal.
"He's a really important player for the club and for the team. He's a great player and has certainly shown how important he is for Newcastle and for the French national team too.
"From a personal point of view I didn't really know Yohan that well before I came to Newcastle - I had played against him before and he's one of the players who gave me the warmest welcome and I'd like to express my thanks to him for that.
"He really helped me to settle and I get on very well with him - just like I do for the rest of the team."
Reports suggested a rift developed between the French players and the rest of the Newcastle squad last season, but Haidara dismissed these claims.
He said: "Obviously when some things aren't going well people will look to create extra problems where they don't exist.
"In my experience since I've been here I haven't seen a single problem - not among the French players, not among anyone. Quite the contrary, we all speak together."