Rudy Gestede dismisses bite claims in Eric Bailly clash during Middlesbrough v Man Utd
By Mark Crellin
Last Updated: 19/03/17 6:52pm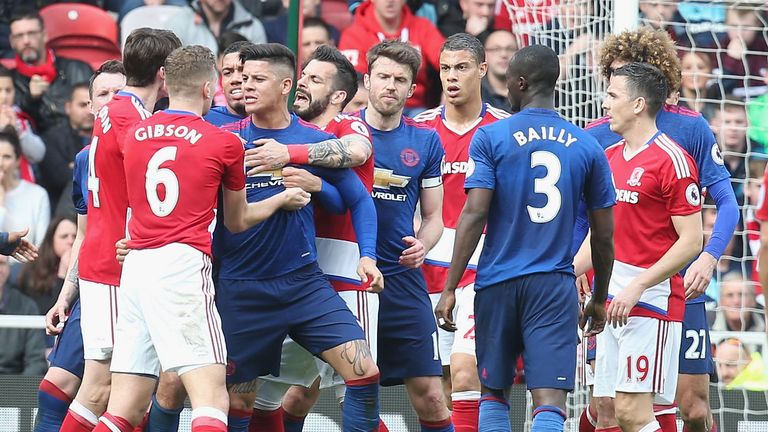 Middlesbrough forward Rudy Gestede insists there was no bite from either him or Manchester United defender Eric Bailly when they clashed during the visitors' 3-1 win at the Riverside on Sunday.
Gestede came off the bench to score in the 77th minute and reduce United's lead to 2-1 before Antonio Valencia's late goal wrapped it up for United.
But in between those goals were was an ugly clash between players from both sides, prompted by a coming together between Gestede and Bailly.
Boro's Ben Gibson thought Bailly had bitten his team mate but Gestede insisted after the match that was not the case.
"We had a few words together, it was nothing major," the Boro striker explained.
"He gave me a hug and a kiss, that's it. I didn't feel anything.
"Ben thought he bit me, so that's why he reacted like he did. But I told him now we were just talking, there was no problem."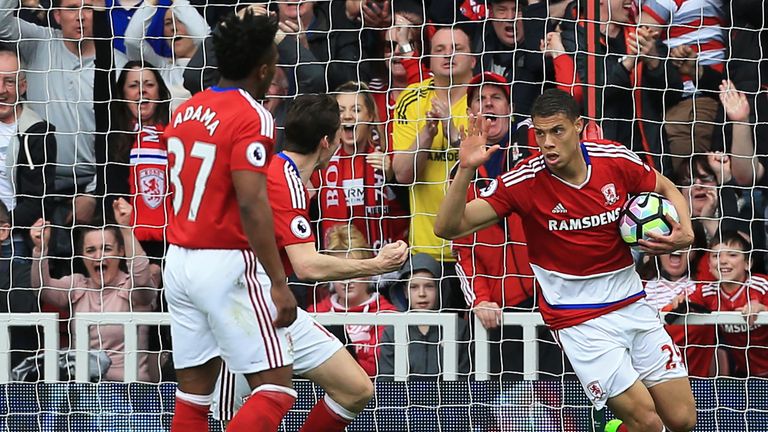 There was another incident in the tunnel at the end of the contest and United defender Phil Jones felt the home players were frustrated after the defeat left them second from bottom in the table.
"I think it was a bit of frustration creeping in on their behalf," said Jones.
"It is a difficult situation. I was in it with Blackburn, so I know how they feel. When emotions are high these things happen but it was something and nothing."
Sky customers can now upgrade to Sky Sports and get 12 months for just £18 per month. Upgrade now!