Hector Bellerin insists Arsenal should not already be ruled out of Premier League title race
Last Updated: 13/09/17 8:55am
Hector Bellerin insists Arsenal should not be ruled out of winning the Premier League despite enduring a difficult start to the season.
Arsenal have started their 2017/18 Premier League campaign in mixed form, having won their opening league fixture 4-3 against Leicester before an away defeat to Stoke was followed by a heavy 5-0 loss to title rivals Liverpool on Nissan Super Sunday.
But Arsene Wenger's men bounced back with a convincing 3-0 victory over Bournemouth on Saturday, meaning Arsenal have taken six points from their opening four Premier League matches.
Speaking ahead of Arsenal's Super Sunday clash against Premier League champions Chelsea, Bellerin believes their current form can be compared to their opponents' start last season and that the Gunners shouldn't be considered out of the title race.
The Spain international exclusively told Sky Sports: "The season before was not a good one for them [Chelsea].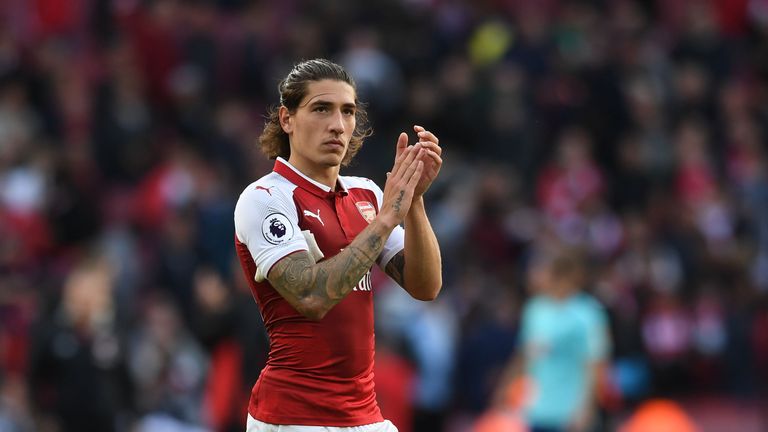 "There was a lot of criticism for them and their new manager. Nobody knew what was going to happen. Then, after a poor start, they won 13 games in a row which is something to admire. It's not about how you start but how consistent you are and how you finish it.
"That's why Chelsea won the league. There are so many games to play. It's only been four games now and six points can be very valuable. Whoever is ruling us out already doesn't know about football."
Arsenal make their Europa League debut against Cologne on Thursday night and even though the tournament makes for greater fixture congestion, Bellerin believes Arsenal have the strength in depth to compete on both fronts.
"Teams like Leicester and Chelsea, they didn't have any midweek games [when they won the Premier League] so obviously players will get more rest and just play at the weekend.
"For us, we are lucky to have good squad depth and I think we have enough players to face both competitions with the right team and still have the right amount of quality players on the pitch.
"As a top club, you are expected to play two-three times a week so we have to be able to cope with that."