New Crystal Palace manager Roy Hodgson has the necessary experience to succeed, says Alan Pardew
Last Updated: 13/09/17 10:44am
Former Crystal Palace manager Alan Pardew believes Roy Hodgson has the necessary experience to steer the club away from trouble.
The former England manager was officially appointed as Crystal Palace boss on Tuesday evening to succeed Frank de Boer, who was sacked after managing just four Premier League matches.
Speaking on The Debate, Pardew believes Hodgson has a strong enough understanding of the club's DNA to steer them away from relegation.
"For Roy to go back to his hometown club is good for Roy," he said.
"He knows the history and DNA of Crystal Palace, he'll bring a regimented structure to the group.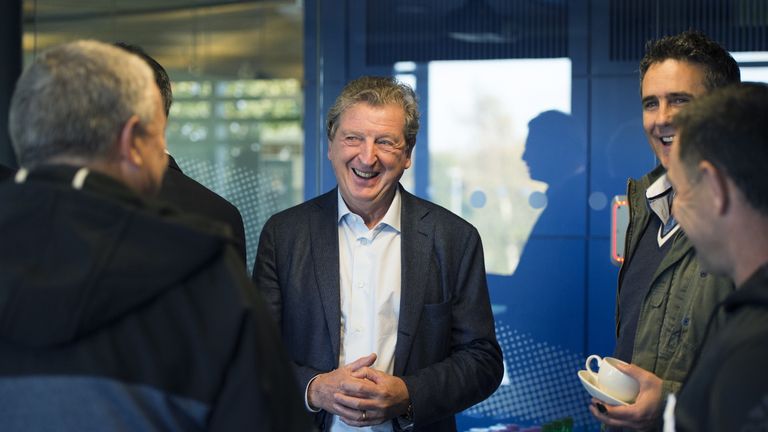 "That's something he's done at all his clubs and from his Italian background his teams will be solid and difficult to beat. Where the club sits at the moment that could be very useful."
Hodgson is the oldest man (70 years, 34 days) to be appointed as a permanent manager in the Premier League.
But Pardew believes Hodgson, alongside his assistant Ray Lewington, can adapt to the current demands of being a Premier League manager despite his last job being in international management for four years.
"Any Premier League manager tells you it moves rapidly. The fundamentals don't but the dynamic does. The media work, the demands of the club and the size of the organisation. It's a big group you have to deal with and that will be a drain on him.
"Although he's 70-years-old, he's got good energy and experience. He's got Ray Lewington, who is a great coach, and they've got the experience to do the job and the players have to get something.
"Roy needs to plan the week and get their head down and get this win on Saturday and go from there. There's no objective. Forget about DNA.
"Roy is going to get more licence than any other manager. You need 12 wins in the Premier League and he's got 34 games to get them."