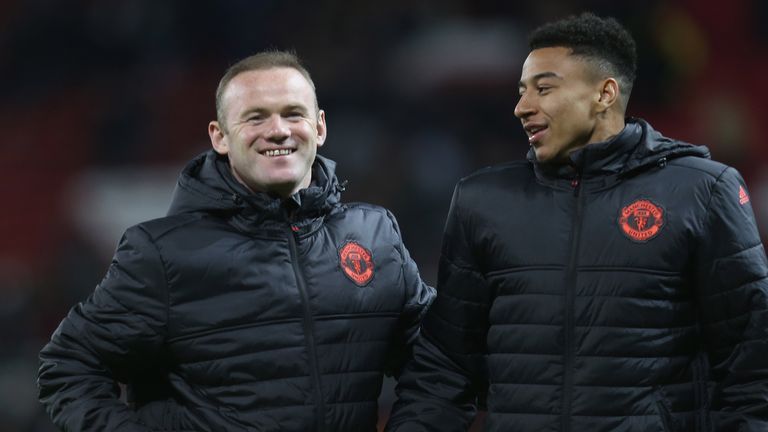 Jesse Lingard says he learned a lot from Wayne Rooney who returns to Old Trafford this weekend when Everton face Manchester United in the Premier League.
Rooney left United for Everton during the summer, after spending 13 trophy-laden years at Old Trafford.
And the 24-year-old Lingard says he has great respect for the Merseysider who is now back at the club where he first made his name in 2002.
"You learn every day from him. His experience in games, especially when you're young," said Lingard.
"If it's only 1-0 it's always hard to manage a game, and he knew what to do at times, especially towards the end of games.
"Of course it is hard to follow him, he's always going to be recognised as a legend at the club and he'll get a great reception when he comes back.
"Obviously he was there as a young boy and he thought it was the right decision at the time."
And while Rooney returned to his roots, Romelu Lukaku travelled in the opposite direction to take up the mantle as United's main striker.
Lingard said of the Belgian striker: "You've seen last year what he's capable of and what he did for Everton.
"He scored a lot of goals and now he's carrying that form on which is great for us.
"He holds the ball up well, he runs in behind which gives the guy on the ball another option.
"He's very strong in the box, he's very good with his head, so he gives a lot of options for the man on the ball.
"He's got his feet on the ground and he doesn't let anything faze him. As long as he keeps scoring the goals, he's going to make the headlines."
Lingard is yet to start any of United's four league games this season, and has totalled just 22 minutes on the pitch from three appearances as a substitute.
But he remains upbeat and expects to get his opportunities soon.
"There's a lot of games, especially this month, so you're always going to get your chance," he said.
"I've just got to be patient and when you come on the field you want to make a difference.
"You learn a lot and you want to keep training hard and like I said you will get your chance, it's all about taking it."