Vaughan hints at exit
Reported Sunderland target David Vaughan does not know if he will stay at Blackpool.
Last Updated: 25/05/11 9:34am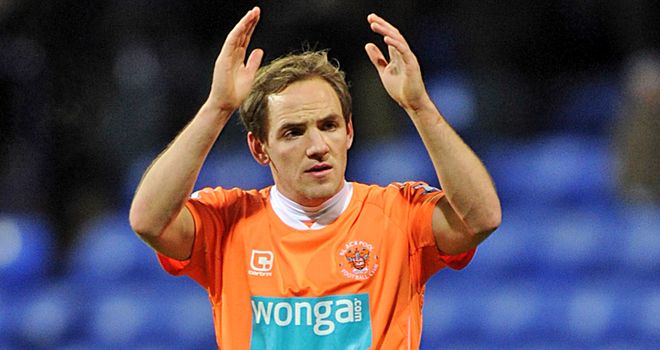 Blackpool star David Vaughan admits he does not know what the future holds amid reports he has agreed a move to Sunderland.
The Welsh midfielder, who is preparing for Wednesday night's international against Scotland, is expected to leave Bloomfield Road this summer after surpassing expectations in the Premier League.
Everton and West Brom are thought to be interested, while SPL champions Rangers have also been credited with an interest in taking advantage of Blackpool's relegation from the English top flight.
But Sunderland are rumoured to have agreed a three-year deal and while Vaughan has enjoyed his time with Blackpool, he is unable to say for certain whether he will remain with last season's Championship play-off winners.
"These last two years at Bloomfield Road have been great and have probably been the best years of my career, so hopefully wherever I may be next year - if it's Blackpool or not - I can keep my form going," he told the Blackpool Gazette.
Nervous
"I don't know what the future holds just yet but if I do go somewhere else I will take away nothing but happy memories.
"Most of the memories are fantastic. Wembley last year and some of the games this season have been great, and I just have to thank Blackpool and everyone at the club for that."
Vaughan admits he was nervous about stepping up to Premier League level but he was satisfied with his performance.
"On the whole, I've been really pleased with this season. It has gone a lot better than I thought it would," he said.
"Obviously at the start I was a bit apprehensive about playing in the Premier League.
"I wouldn't say I doubted whether I could make the step up but I had never played at the top level before, so it was more a case of stepping into the unknown really, not knowing what you are going to face."