Hernandez - Utd world's best
Javier Hernandez insists he is loving playing for Man Utd who he describes as the biggest club in the world.
Last Updated: 27/05/11 2:57pm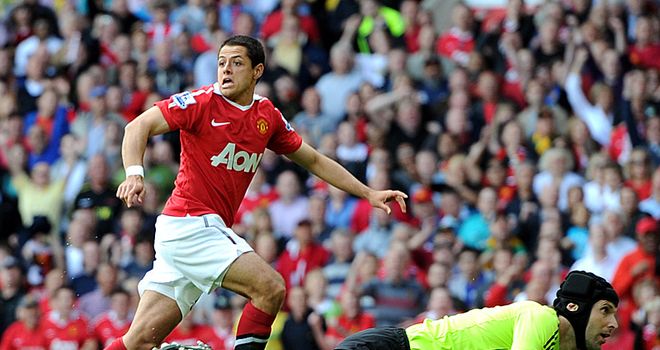 Javier Hernandez insists he is loving playing for Manchester United who he describes as the biggest club in the world.
The Mexican starlet has been a sensation in England this year, scoring 20 goals and becoming a first-team regular under Sir Alex Ferguson.
Despite only signing for United last summer, he is already being linked with Spanish giants Real Madrid and Barcelona.
And his agent Eduardo Hernandez has admitted that he would have to look at any offers.
"I don't think this is the right time to leave, but we have seen everything in football. Both he and Manchester want to continue working together, but anything can happen in football," he told Goal.
"I think this is a subject between directors. We would expect to look closely at any offer...if Manchester told us there was one."
But Hernandez says he is already playing for the biggest club on the planet, telling AS: "I'm at the best club in the world. All people, all staff help you.
"They treat you as if you were in their own family, having such an environment leaves you care free to concentrate on your work."
Hernandez feels being able to bring his family with him to Manchester has been the key to his success.
"The key has been that my family came with me. I am delighted with life in Manchester," he said.
"Everything that has been happening to me is unbelievable, I am very happy and grateful to God and my family."
Hernandez has been publicly praised by Barca coach Josep Guardiola and their star man Lionel Messi.
"I am grateful for his comments, I thank everyone who has taken the trouble to name me, it is amazing that football legends like that can say something about me," he said.
Happy
Asked if he imagined playing alongside Messi at Barca, he replied: "No, I am a player of this great team."
Hernandez looks set to start at Wembley, but he insists he does not know yet whether he will be playing.
"Starting or not depends on the coach. We are preparing our best, but I'd be happy whether I play or not."
He also insists that working hard is more important to him than goalscoring, commenting: "I am not obsessed with goals, what haunts me is sweating to death for this shirt and never to stop running.
"The goals are a result of work for the team, the forwards just have the good fortune to score."