Gunners stand firm on Cesc
Peter Hill-Wood is adamant Cesc Fabregas will only be sold to Barca if they meet Arsenal's £40m asking price.
Last Updated: 06/08/11 9:28am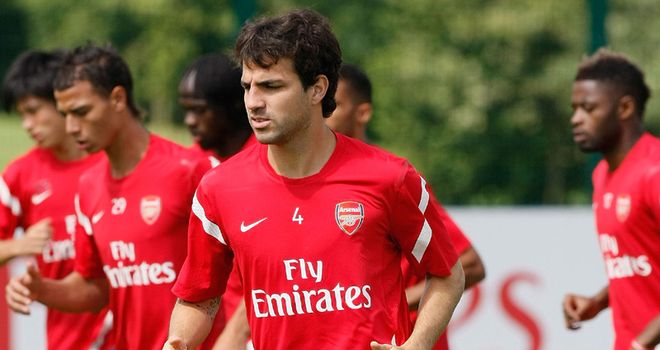 Arsenal chairman Peter Hill-Wood is adamant Cesc Fabregas will only be sold to Barcelona if they meet the Gunners' £40million asking price after snubbing their latest bid.
Skysports.com reported on Friday that Barca had failed with another attempt to bring Arsenal skipper Fabregas back to Camp Nou - their third unsuccessful offer this summer.
The Catalan giants reportedly tabled a £30m bid plus £5m in future add-ons but the Gunners stood firm on their valuation of the 24-year-old midfielder.
Fabregas did not travel to Lisbon with the rest of the squad for Saturday's friendly at Benfica, even though he is fit, fuelling speculation he could still leave Emirates Stadium this summer.
But club chief Hill-Wood insists Arsenal will not budge until Barcelona come in with what they consider an appropriate offer.
Straightforward
He told the Daily Star: "Their offer was nowhere near what we are looking for.
"It is very straightforward from our point of view. We have told them what we want and we are sticking to it.
"We do not think we are being at all unreasonable when you see the sort of prices players are being sold for, who are not even half as good as Cesc.
"Barcelona are offering extra payments which are dependent on all sorts of fantastical things, but we are not interested in that. We want them to pay what he is worth."