Pardew happy with performance
Newcastle United manager Alan Pardew is delighted to see his side in the top four of the Premier League.
Last Updated: 16/09/11 4:11pm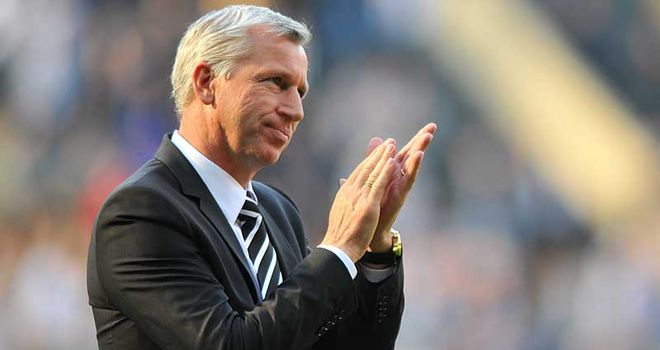 Newcastle United manager Alan Pardew is delighted to see his side in the top four of the Premier League but insists that they are not getting carried away.
Three clean sheets in four league matches have lifted the Magpies to fourth place, just two points behind third-placed Chelsea.
However, not many expect Newcastle to maintain this form as the season progresses and although Pardew concedes so, he wants his players to carry on with the unbeaten run.
"I took my phone and got a picture of it (the league table) to make sure it was correct, and I will keep that," said the 50-year-old.
"There's no sense of us getting carried away - I don't think that will ever happen under my management.
"It's about taking that belief into the games. That's where we are and that's where we deserve to be and from now on, that's where we have got to try to stay if we can.
Discipline's the key
"The discipline in the squad has been the key and our defenders have been really at the top of their game.
"Where we sit right now, there is a huge dependence on them at the moment and we want to just change that, take some pressure off them and get a couple of goals here and there -or maybe three or four."
Pardew's side were held to a goalless draw by Queens Park Rangers on Monday night and are away at Aston Villa on Saturday afternoon.
Speaking on those matches, the Newcastle boss said: "We know as a group we didn't play particularly well (against QPR) and we rode our luck a couple of times.
Villa are similar
"The rest of our play, our resilience, our commitment and work-rate, was very evident. We just need to tweak ourselves and make sure we pass the ball and take care of it and threaten the opposition more at Aston Villa, hopefully.
"I think they are a bit like us - they have three or four news players they are trying to bed in and are not exactly sure what's their best team at the moment. But most teams in the Premier League are still finding their feet a little bit.
"They [Villa] have some outstanding individuals, of course, and they will be a definite threat to us. But we have conceded one goal in the Premier League, and that gives us a good foundation to go on and try and win the game."