City play down Hargreaves fears
Manchester City insist that Owen Hargreaves has not suffered a major injury setback and only has a slight calf problem.
Last Updated: 26/10/11 8:59am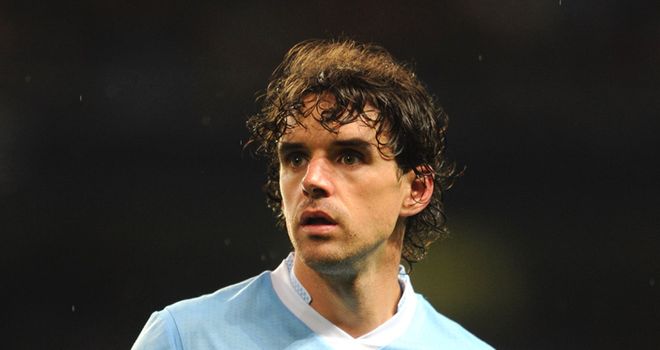 Manchester City insist that Owen Hargreaves has not suffered a major injury setback.
The 30-year-old joined City in a surprise deal over the summer after leaving rivals Manchester United.
He has already made a couple of appearances for City, but he will not feature in the Carling Cup against Wolves on Wednesday due to a slight calf problem.
Hargreaves had been expected to start against Wolves, but first-team coach David Platt insists not too much should be read into the injury.
"There is no worry about it. He has got a little niggle that because it is Owen Hargreaves we are talking about it," said Platt.
"It is nothing much, it is just a kick in the calf. We have had it scanned and there is no pull or anything.
"He has not broken down. If he had broken down we would be talking about him being out for three or four weeks but that is not the case."
Hargreaves played 57 minutes against Birmingham five weeks ago but his only appearance since was as a late substitute in the 4-1 Premier League win over Aston Villa on 15th October.
He was thought to be in contention for a place on the bench for Sunday's derby win over his former club but was not named in the squad.
Hargreaves was hampered by problems in both knees during his time at United before he suffered a hamstring injury early in what proved to be his final appearance for that club last November.
No issues
Yet while City do not want to risk him at Molineux, they insist that is not because they need to treat him more carefully than any other player.
"He is there or thereabouts but the fact of the matter is he hasn't trained for three or four days," said Platt.
"To go in and do one light training session and then go into it, you wouldn't do with any player. That has nothing to do with whether it is Owen or not.
"Since we came back from the international break, Owen Hargreaves has been one of the 24-25 players available for selection.
"He could well have been in the squad for the derby. He could have been in the
stand, on the bench or he could have played.
"We don't look at him any more as a separate case, whereas leading up to the international break we were still in his 'pre-season' preparation.
"We are over that. He comes into the equation like any other player comes into it now.
"He came in on September 1 and we're now at the end of October.
"That's seven weeks and he's been off the training pitch five days.
"Rather than talking about what has happened in the last three years, he is now a Manchester City player and we should look at it from when he has been at Manchester City."