Mandaric - Harry a special guy
Milan Mandaric has told a court of his rollercoaster friendship with Harry Redknapp as the Tottenham manager's trial continued on Monday.
Last Updated: 30/01/12 7:55pm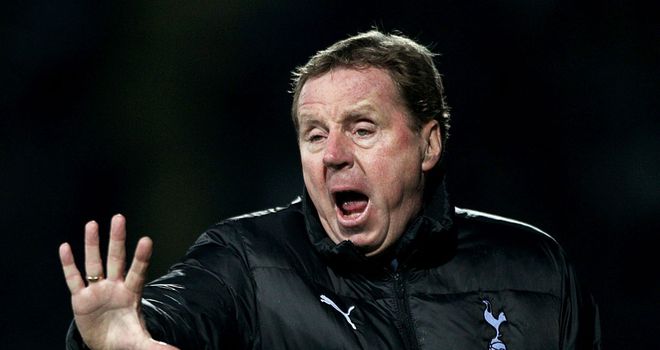 Milan Mandaric has told a court of his rollercoaster friendship with Harry Redknapp as the Tottenham manager's trial continued on Monday.
Milan Mandaric said he agreed to pay £4.2million a year to his "special guy" before their relationship led to "a bitter divorce".
Mandaric told jurors: "In 35 years in football, I never had a closer relationship as a manager than I had with Harry."
When asked about their relationship, he said: "Do you mean when I strangled him or when I love him?"
Mandaric said the £189,000 deposits for Redknapp in a Monaco bank account was "something entirely different" from football.
Both Redknapp, of Poole, Dorset, and Mandaric, from Oadby, Leicestershire, deny two counts of cheating the public revenue when Redknapp was manager of Portsmouth Football Club.
Mandaric told Southwark Crown Court: "I want to do something special for Harry because he means more to me than a football manager. This was something as a friend.
"If this was something to do with employment, I would have done something entirely different."
The payments were "something special for my friend ... That's all I wanted to do."
He added: "I want to make it absolutely clear that it was completely away from his duties, his bonuses, his salaries ... It has nothing to do with it. It is an entirely different subject."
Redknapp joined Portsmouth - initially as a director of football - in 2001 before Mandaric asked him to take on managerial responsibilities.
When asked about Portsmouth's promotion to the Premier League, Mandaric said: "It was a dream for me, it was a goal that I desperately wanted to achieve for those wonderful people in the city."
Mandaric said he often dined with Redknapp and his wife.
The two families spent several days together after celebrating a New Year's Eve, he said.
Mandaric said Redknapp, 64, would often pick him up and drive him around the Portsmouth area.
Relationship
"Rumour around was that he was the most expensive driver in England," Mandaric told the court.
"Harry is one of those guys, I learned a lot more about him later, he is not really a small timer in trying to nail you down about everything.
"He gives you a lot of room. I thought we strike up a relationship quite quickly from the time we met."
The chairman added: "Overall he was a special guy in my view."
Mandaric said his relationship with Redknapp "started to go a little bit uncomfortable" amid frustration over fees being paid to agents.
He also said he lost more than £10million in one year from investments.
When asked by Redknapp about the Monaco investment, Mandaric said: "I said 'Harry, it does not look good. Actually it's disaster all over the world'."
Redknapp and Mandaric did not speak for a year when the manager joined Southampton in 2004, jurors heard.
"We didn't speak, it was a little bit of a bitter divorce," Mandaric said.
"It was a bit on the bitter side, especially as Southampton-Portsmouth, there's not a lot of love lost."
Mandaric revealed earlier how Apple co-founder Steve Jobs helped make him rich.
The Croatia-born Serb said Jobs handed him one of his first contracts after he emigrated to the US and opened factories manufacturing circuit boards.
Mandaric, 73, told Southwark Crown Court he moved with his family to California after a troubled upbringing.
"It was a very difficult time in those days," he told jurors.
"For four years we were in mountains hiding from enemies while my father was taken to a concentration camp.
"When we returned, our village, it was destroyed. It was difficult days, difficult for everyone living in that part of the world."
Support
Mandaric made a deal with Apple computing pioneer Jobs as his company - called Lika after his hometown - rapidly expanded during the 1970s.
Mandaric told the court he became interested in owning football clubs as the sport began to expand in America during that time.
He was involved in deals to bring football stars including Bobby Moore, George Best and Pele to the new US league, he said.
It was during this time that Mandaric became aware of Redknapp as a manager, he told the court.
Mandaric said "my ambitions were limited" when he first took control of Portsmouth.
"I was only asking for one thing: To trust me," he said. "I will support the club as much as is needed. I will stay there until there is success."
He added: "My ambition first and foremost was to put the club back on track and save it from financial ruin."
He said he cherished his time at the South Coast club.
"If I look back at my 12 years there was a real love affair with football in that city," he said.
The first charge of cheating the public revenue alleges that between April 1 2002 and November 28 2007 Mandaric paid 145,000 US dollars (£93,100) into the account.
The second charge for the same offence relates to a sum of 150,000 US dollars (£96,300) allegedly paid between May 1 2004 and November 28 2007.
The court was adjourned until Tuesday when Mandaric will continue his evidence.