Redknapp plays down crowd fears
Harry Redknapp called for cool heads from players and the fans alike ahead of the return to the Emirates of Emmanuel Adebayor.
Last Updated: 24/02/12 3:20pm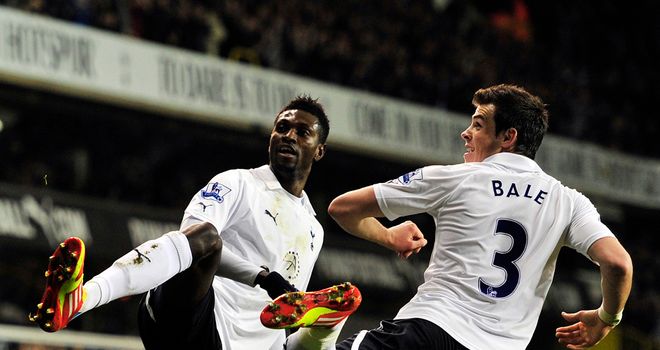 Harry Redknapp called for cool heads from players and the fans alike ahead of the return to the Emirates of former Arsenal favourite turned pantomime villain Emmanuel Adebayor.
Arsenal fans have not forgiven the Togo striker for sprinting the length of the pitch at Eastlands to celebrate in front of them in his first game against the London club shortly after he joined Manchester City in 2009.
And tempers ran even higher amongst the Arsenal faithful when he turned out for their North London rivals in Tottenham's 2-1 victory over them in October.
Unfortunately the game will be remembered for a series of unsavoury chants from both sets of fans and to prevent a repeat both clubs issued a joint statement calling for calm ahead of Sunday's game.
But despite the problems off the pitch Redknapp is sure that his star striker will be able to handle the pressure.
"I'm sure he will enjoy going back there," the Tottenham manager said. "He played well against them at home this year so I don't think it will be a problem.
"I suppose he will get some stick. That goes with the territory when you go back to your old clubs, but I'm sure he can handle it. Hopefully he will keep his cool and that's what he needs to do.
Filth
"I don't know why people have to shout abuse and filth at people. I don't understand it.
"We didn't do it when I was a kid going to watch football. I hope they can go and enjoy the game on Sunday, get behind their team and get on with the game. Don't go there to abuse other people. That doesn't make sense."
His side are sitting 10 points ahead of their rivals and have the chance of completing a league double over Arsenal for the first time in 19 years who are facing the prospect of yet another trophyless season and possibly their worst finish in 15 years.
Incredible
But Redknapp was quick to point out it is far too early to write off Arsenal or their manager Arsene Wenger.
"Look at his record, it's fantastic," he continued. "He's brought them Champions League football for how many years running? Fifteen is it? Fantastic. An amazing achievement. What he has done at Arsenal has been incredible.
"I want us to be London's top club this year. To dominate London would be very difficult because you have two very strong teams in Arsenal and Chelsea.
"They are always going to be there or thereabouts and Tottenham will be as well. We have to keep improving. That depends on your ambition and the chairman is ambitious here. There is no reason why the club can't keep improving and pushing on."