Pardew backs Ashley approach
Alan Pardew feels Newcastle are in a 'healthy' position due to the club chiefs' decision to shift power from the players to the club.
Last Updated: 26/02/12 11:54am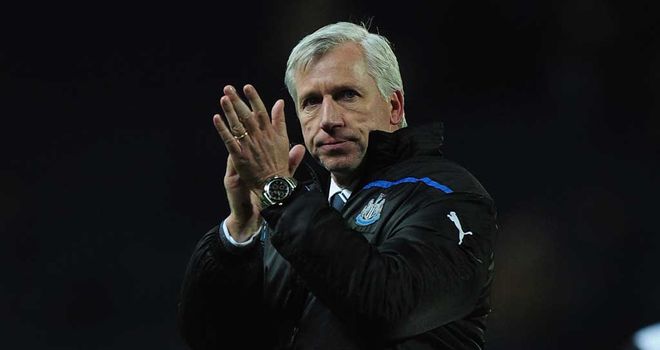 Alan Pardew believes Newcastle are in a 'healthy' financial position due to the club chiefs' decision to shift power from the players to the club.
Magpies supporters are known to have a turbulent relationship with owner Mike Ashley and managing director Derek Llambias, with particular tension surfacing following the sale of star striker Andy Carroll and the renaming of the club's home ground.
But manager Pardew feels the self-sufficient approach Newcastle's bosses have adopted will ensure the club avoids the financial problems which have sent both Portsmouth and Rangers into administration in recent weeks.
He said the Daily Mirror: "The strategy Mike Ashley and Derek Llambias have followed has put the club in a position of relative financial strength.
"Compared to a lot of other football clubs we are in a good place. You have to worry after what has happened last week that a couple of other clubs could be in trouble this summer - but we are not in that position.
"That is down to Mike and Derek. That policy of buying younger players and being very tough with contracts and shifting the power a little bit from players back to the club has proved so far to be successful.
"There are a couple of other models that have been similar. Spurs have gone down that line and bought young players but are now in a position where they can actually buy experienced players.
"I think, hopefully, that is now the next phase for us. Where we are right now -we are pretty healthy."
Encouraging
Pardew admits losing key players is sometimes unavoidable but feels if Newcastle continue to progress they will be able to attract more high-profile signings.
He added: "One of the big things that has helped me is that the agenda is out in public. That is important that Mike and Derek come out and say: 'this is the financial climate - this is how we work'. So that makes it a little bit easier for me.
"But we will still have problems down the line. Losing some of our best players to the best clubs is still going to happen because we are still not in a position to stop that.
"But we won't be able to protect our best players until we get more revenue and bigger sponsorship in.
"The higher up the table we finish the easier it will be to attract not only new sponsors but also top players. We are now getting sound-bytes from agents that they would like to get their players here. It is a good sign."