Coyle has spoken with Muamba
Owen Coyle has had a brief conversation with Fabrice Muamba but stressed that it remains early days in the Bolton player's recovery.
Last Updated: 20/03/12 4:47pm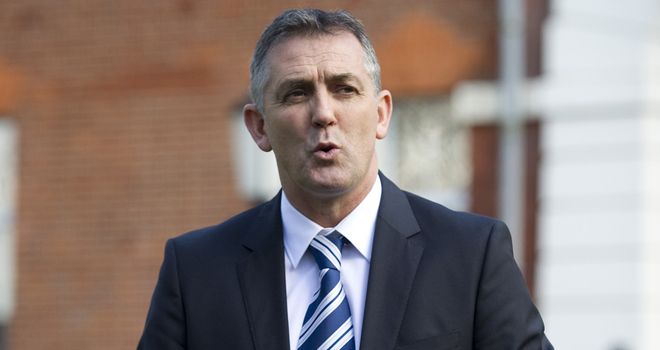 Bolton manager Owen Coyle has confirmed that he has had a brief conversation with Fabrice Muamba but stressed that it remains early days in the midfielder's recovery from a cardiac arrest.
Muamba has been in the intensive care unit of the London Chest Hospital since Saturday evening after collapsing on the pitch during Bolton's FA Cup quarter-final against Tottenham.
He started to show signs of improvement on Monday and was later able to breathe independently and recognise family members, as well as respond to questions appropriately.
It has also been announced that the 23-year-old had a comfortable last night in hospital, although Coyle insisted there was still a long way to go in his recovery as he addressed the media on Tuesday afternoon.
Coyle again wanted to thank the hospital on behalf of Muamba's family and everyone who had offered support, whilst saying that he had spoken to the player.
"We had a conversation and a few words were exchanged, but that will remain private as you understand," said Coyle.
"It is a great sign but I must stress that this is still very early in the process. The doctors have stressed that point so that we all know what is involved.
"Fabrice has still got a long way to go but it is encouraging signs and whilst that is the case it is very positive and we move forward from that point."
Coyle also expressed special appreciation for the way everyone at Tottenham united with Bolton to fight for Muamba at White Hart Lane.
He explained: "I have to go on record as thanking everybody and I have to mention the supporters actually at the match from both Bolton Wanderers and Tottenham Hotspur. How Tottenham acted as a club was extraordinary to see, everybody working in those circumstances for the common aim of making Fabrice better.
"It is also truly remarkable the work being done by the hospital and the family have asked me to pass that on once again.
"For clarity, Fabrice has improved but it is still early days and he remains in intensive care and in critical condition."
Outstanding individual
Although he was careful not to get carried away, Coyle admitted that he could not have imagined Muamba would make such good progress over the past 48 hours.
He said: "At this stage on Saturday I certainly would not have envisaged the improvement that has come, but I am getting repetitive and it is still early days.
"We said on Saturday night that we hoped and we prayed and the support he has had worldwide, the prayers from countries all over the world.... word spreads of how nice a lad he is and the qualities he has as a man.
"Football pales into insignificance but he is an outstanding young individual and we pray that he gets back to that level again."
Asked if the hospital knew whether Muamba might be able to make a full recovery, Coyle said: "They say that is something that has happened before.
"The two things that Fabrice has that can help him in this battle are that he is such a fit young man and, the life he has had, he has had to fight every step of the way in his young journey, so those two things I am sure will stand him in good stead."
Coyle added that he had given no thought to when Bolton might return to normal training ahead of a Premier League match against Blackburn on Saturday that is expected to go ahead, insisting that Muamba was his only concern.
When asked if he could now think of focusing on the weekend match at the Reebok Stadium, Coyle said: "The answer to that is no, because that's not something of great importance to me at this moment in time."