McLeish - Petrov proud of Villa
Alex McLeish has revealed Stiliyan Petrov was very proud of Villa's display against Chelsea after being diagnosed with acute leukaemia.
By Razwan Mirza
Last Updated: 01/04/12 10:05pm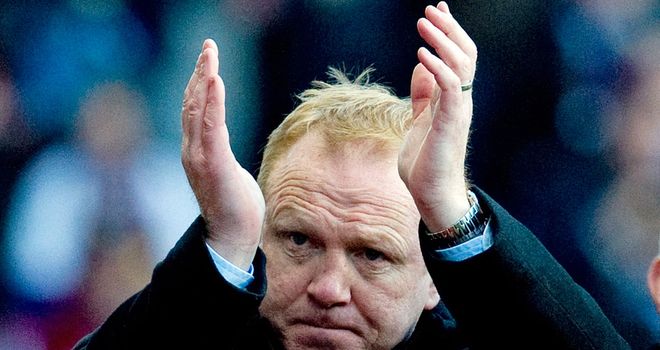 Alex McLeish has revealed that Stiliyan Petrov was very proud of Aston Villa's display against Chelsea after being diagnosed with acute leukaemia.
The 32-year-old Bulgarian, who is due to begin treatment in a London hospital on Monday, made the trip to Villa Park to watch his side in action against the Blues.
Villa fought back from 2-0 down to 2-2 before Branislav Ivanovic and Fernando Torres clinched a win that put Chelsea in a good position behind fourth-placed Tottenham.
The club skipper watched from the stands and was visibly emotional as he waved to the fans giving him a standing ovation in the 19th minute - chosen to match Petrov's shirt number.
McLeish revealed that the Bulgarian sent him a text message after the game to give his thoughts on the side's performance.
"He (Petrov) thought the lads had a really brave game and were a little bit unlucky," McLeish told Sky Sports News.
"There were a lot of young players playing on Saturday and they're going to make mistakes and learn how to play in the Premier League.
Power
"Stiliyan obviously made it a very emotional occasion and the fans were right behind the team, they gave them extra power and they gave Stiliyan fantastic support.
"I have to say, which I didn't realise, that the Chelsea players wore T-shirts (which said 'our thoughts are with you'), which was a fantastic gesture and I have to thank them for that.
"I watched (Petrov's former club) Celtic play today (Sunday) and they had a smashing tribute in the 19th minute to Stiliyan - he's a massively popular guy."
McLeish feels Petrov will receive a boost from the weekend as he begins treatment on Monday, adding: "Hopefully the support will boost him and give him positivity - I know that can help people in their recovery."
Meanwhile, Bolton midfielder Fabrice Muamba, who suffered a cardiac arrest on the pitch at Tottenham last month, and his fiance Shauna Magunda voiced a message of support for the Villa captain.
They said: "We would like to pass on our love and support to Stiliyan Petrov and his family. They all have our very best wishes."