Dempsey delays decision
Clint Dempsey has admitted he will not decide on whether to sign a new contract with Fulham until the summer.
Last Updated: 09/04/12 2:31pm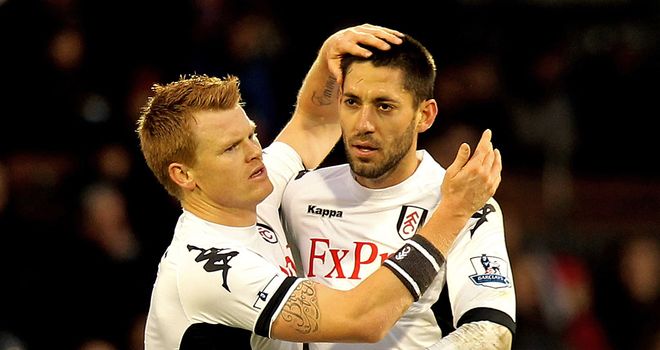 Clint Dempsey has admitted he will not decide on whether to sign a new contract with Fulham until the summer.
The 29-year-old took his season's total through the 20-goal barrier at the weekend with a brace against Bolton.
The American forward has just over a year left on his current deal and Fulham have offered him a new long-term contract.
Martin Jol admits he is hopeful that Dempsey will sign on the dotted line, but he now admits he will not making a decision until the summer.
"We will see what happens. It is one of my best memories of being at Fulham, this season, and I have one more to go," said Dempsey.
"I am talking with the club but we will have to see what happens in the summer.
"I want to focus on this season and my football and other stuff can take care of itself after the season."
Productive
Dempsey played as a centre forward at the Reebok Stadium but his goals in his most productive season in English football have come from a variety of positions.
He might even have claimed a third hat-trick of the campaign had he not shot narrowly wide in the second half after earlier striking from a free-kick and with a firm header.
He said: "I work hard every year. If you look at the positions I have played this season - mostly left mid, coming inside - but mostly it is just trying to get in the box and get on the end of things.
"Maybe I have just been more cool, calm and collected and just been able to finish things off."
Dempsey and his team-mates are back in action tonight as neighbours Chelsea visit Craven Cottage.
Fulham now look comfortable in mid-table but are hoping to build some momentum by pulling off a surprise win over a side still pushing on three fronts.
Dempsey said: "Our fans are definitely going to be up for it, they want us to go and put in another good performance.
"We owe it to them to do that and we will be working as hard as we can, even though it is a quick turnaround.
"We will make sure we are as ready as we can be to go out and give a good performance.
"You want to finish the season on a positive and beating teams like that is what it is all about."
A strong finish could put Fulham in position to challenge for a Europa League spot again but Dempsey has downplayed that prospect.
He said: "We have to wait and see. There are still a lot of games left and it is really tight around us.
"Maybe - but I think finishing in the top half would be a good season for us."