Di Matteo certain it was a pen
Chelsea's interim manager Roberto Di Matteo was adamant his side deserved to be awarded a penalty at Craven Cottage.
Last Updated: 09/04/12 10:57pm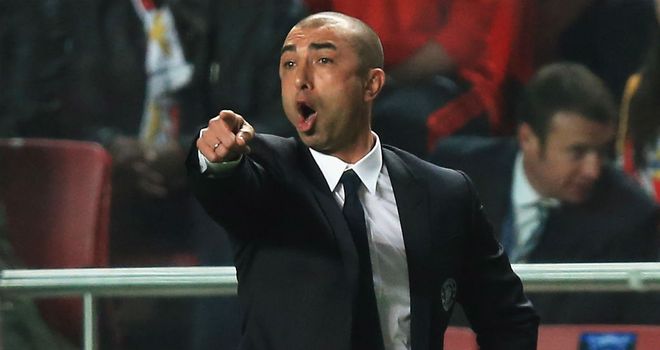 Chelsea's interim manager Roberto Di Matteo was adamant his side deserved to be awarded a controversial penalty as they were held at Craven Cottage.
The Blues' hopes of moving level on points with fourth-placed Tottenham were thwarted by Clint Dempsey's late header - his 22nd goal of the term.
Referee Mark Clattenburg awarded the penalty to the visitors for what many believed was for a challenge on Salomon Kalou by Danny Murphy, which Frank Lampard duly scored.
However, Clattenburg later cleared up his decision by saying it was for a foul by right-back Stephen Kelly, which even television replays showed would have been for the faintest of touches.
But Di Matteo had no doubt it was a spot-kick, telling Sky Sports: "Come on, there was a touch on him [Kalou] from Kelly for the penalty."
When asked if he knew that at the time, he responded. "No, but I did see the replay, and yes there was a touch."
Control
Chelsea threatened to get the second goal for large parts of the game and were eventually punished for not doing so, but Di Matteo remains confident of Champions League success.
"I thought we were in control of the game and maybe we didn't pose enough of a threat for the second goal," he added.
"But we were always in a leading position and the only way they could have scored was from a set-play and unfortunately for us [they did].
"But we are still in there, we are hanging in there and we knew Craven Cottage was a tough place to come and we are getting closer to the teams ahead of us."
Lampard's strike was his 150th goal in the Premier League making him the first midfielder to achieve that feat.
After a rocky relationship with Andre Villas-Boas, the former West Ham youngster appears to be thriving again.
Of his record, Di Matteo continued: "It just shows what a tremendous player that he has been for Chelsea Football Club all these years, and he continues to do so and we are very happy he is in our team."