Aguero motivated by Wigan win
Sergio Aguero believes Man City have received a boost following Wigan's win over title-rivals Man Utd on Wednesday.
Last Updated: 12/04/12 9:14pm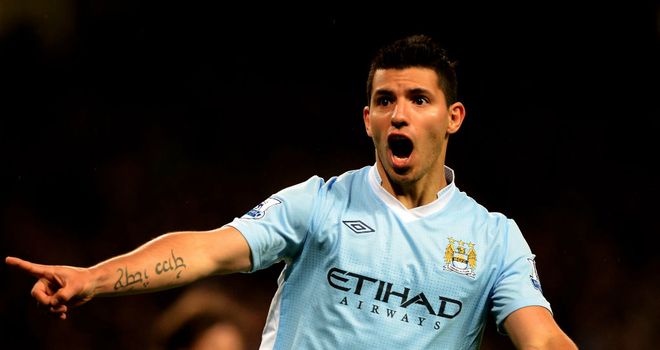 Sergio Aguero believes Manchester City have received a boost following Wigan's win over title-rivals Manchester United on Wednesday.
The Latics beat the Red Devils 1-0 at the DW Stadium, while Manchester City hit four without reply past West Bromwich Albion.
It means the title race has been reignited, with five points separating the two sides and with Sir Alex Ferguson's outfit still to visit the Etihad this season.
But Roberto Mancini's side face arguably the tougher game this weekend as they go to Norwich, while Manchester United are at home to Aston Villa.
Aguero hit two of the goals against the Baggies and he believes the title race is back on.
Important
He said: "Of course it was important to win, we knew we had to win as at any moment United could drop points, as happened.
"They dropped three points, which gives us more confidence to fight for the Premier League.
"We have to be focused now for all the remaining games, these five games, try to win, to win points and then (when) United come here hopefully we (will) have won every game.
"The most important thing is to keep winning, which can only be good."
Wigan took an early second-half lead over Manchester United at the DW Stadium, and the City fans reacted by celebrating the goal as the news filtered into the stadium.
Aguero explained that he acknowledged the fans' cheering: "I knew when we were on the pitch because I heard the fans cheering - it was then I realised it must have been a goal for Wigan.
"The truth is it was a good game, I am happy for the win and the goals. We have to continue like this, we were really good.
"I am happy with my goals and I hope to continue scoring more. But the important thing is my goals mean we win - that's what's important."