Mario has no plans to leave
Mario Balotelli has insisted he feels lucky to work with Roberto Mancini and has no intention of moving away from Manchester City.
By Simone Bargellini
Last Updated: 17/04/12 6:15pm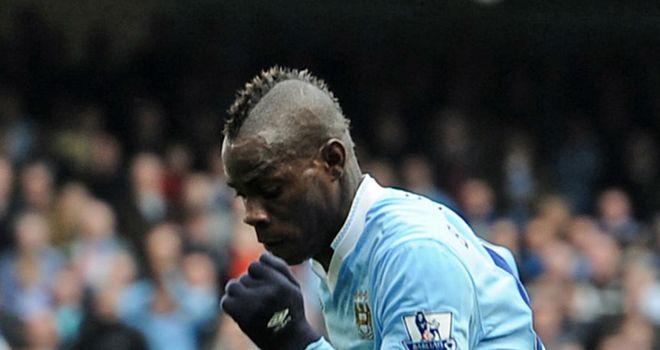 Mario Balotelli has insisted he feels lucky to work with Roberto Mancini and has no intention of moving away from Manchester City.
Fresh doubts were cast over Balotelli's future after he was sent off in the recent game against Arsenal and Mancini admitted he could be ready to sell the striker in the summer.
The City manager has since backtracked on comments that Balotelli was 'finished' for the season after it was confirmed that he would not serve an extended suspension, while Inter Milan have rejected speculation linking them with a move for their former player.
Inter president Massimo Moratti was very complimentary about Balotelli but said he had no plans to bring him back to the club, and the 21-year-old is growing tired of the transfer talk.
Balotelli says he is focused on trying to help City win the title and will not be leaving the Etihad Stadium at the end of the campaign.
"My future? Why do you always talk of Inter and Milan for me? I'm at City and I have no intention of changing shirt," he told La Gazzetta dello Sport.
"Now I am just thinking about winning the title because I am sure that United will make mistakes.
"Certainly in the match with us, then, who knows.
"Moratti always speaks well of me. I enjoy it, he has known me since I was 15. I thank him for that, but I am now at Manchester City and I see no other possibilities."
Go it alone
Mancini's relationship with Balotelli has been a hot topic all season and the City manager has admitted he would have punched the player every day if they were team-mates.
However, Balotelli says there is no problem with Mancini as he strives to make his own way in life after leaving Italy for England in the summer of 2010.
He explained: "When I was at Inter Milan I called my mother to solve every little problem. Now I have to go it alone.
"First of all I need to improve as a player. I am lucky to work with Mancini. He's one of the best coaches in the world, maybe the best.
"After my red card against Arsenal he feared a long ban so he spoke about me with so harsh words.
"But we have explained things to each other. I know he believes in me, as he always has done."
No psychologist
While Mancini has warned Balotelli to improve his behaviour if he is to have a long-term future at Man City, FIFPro general secretary Theo Van Seggelen has also said the player needs professional help.
Balotelli disagrees, saying: "A psychologist for me? I believe psychologists are important. Sometimes they can be very useful, but I don't need one of them.
"Every day there is an exaggeration about me and I would like it to stop. I want to be judged for what I do on the field.
"I am a shy and simple guy. I like to have fun with my friends and I always try not to bother anyone."