Pearce has free reign
Team GB coach Stuart Pearce will be given license to select any player he wants for this summer's Games.
Last Updated: 18/04/12 5:11pm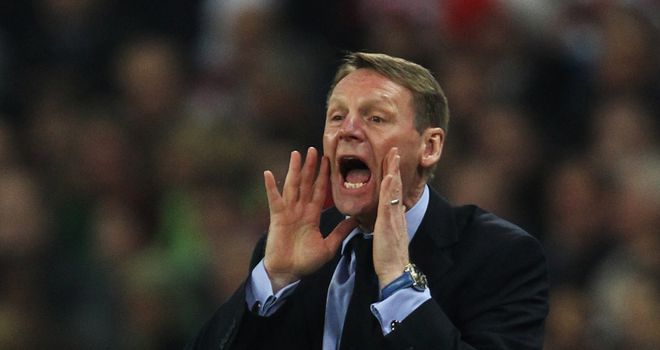 Team GB's Olympic football coach Stuart Pearce will be given license to select any player he wants, irrespective of the inconvenience for Premier League clubs.
Pearce is due to select an 18-man squad, plus standby players, for the Under-23 tournament this summer in England.
There are spaces for three over-age players within the regulations, one of whom could end up being former England skipper David Beckham.
Other than that, the only advice Pearce has been given is that anyone selected for England's Euro 2012 squad will not be available for the tournament, which runs from July 26 to the final on August 11, to be played at Wembley exactly one week before the new top-flight league campaign kicks-off.
However, that does raise the potential for players who just miss out on the Euros being asked to report for Olympic duty and that, in turn, could mean an imbalance in the numbers each club is asked to supply.
Whilst it is not expected any player would be prevented from participating, it is easy to imagine some managers not being impressed at losing a significant number from their pre-season schedule, especially if rival clubs were unaffected.
Confidence
It is understood the Football Association has full confidence in the channels of communication Pearce has already built with senior Premier League clubs to ensure potential problems are sorted out before it becomes an issue.
The matter is complicated though, particularly as it has not yet been established who will pick the Euro 2012 squad, with Pearce still an outside possibility even though the FA have said their intention is to have a full-time replacement for Fabio Capello in place for this summer's tournament in Poland and Ukraine.
At the moment, Pearce is juggling both jobs and has just whittled a 191-strong long list down to 80 Olympic candidates.
Beckham is the most notable figure and it remains highly likely the former England skipper, 37 next month, will be one of three over-age players in Pearce's final 18-man squad when it is confirmed at the end of May.
Having played such a pivotal role in getting the Olympics to London in the first place, it would be a suitable reward, although others may argue it could weaken British hopes of a gold medal.
Representatives from all four Home Nations are in the latest shortlist, including Gareth Bale, Craig Bellamy, Steven Fletcher and Chris Brunt, and the FA remain optimistic non-English players would accept a chance to play in a major tournament on home soil.
However, the Welsh, Scottish and Northern Irish FAs are completely opposed to participation and whilst they accept there is no legal basis to bar selection, dire warnings about future existence of national teams are bound to be made.
Eligible
Arsenal's Jack Wilshere has been ruled out through injury but Liverpool midfielder Joe Cole, currently on loan at Lille, is amongst the potential over-age players, whilst Birmingham's Jack Butland, Chelsea's Josh McEachran and Crystal Palace's Nathaniel Clyne are amongst those who meet the Under-23 criteria.
Knowledge that Beckham could still be in the squad, and appear in competitive games in the UK for possibly the last time, should help push ticket sales which, for GB games, are said to be strong.
In excess of 50,000 have been sold for the opening game at Old Trafford on July 26 and a double-header friendly featuring both the men's and women's teams will be confirmed for the north-east at some stage over the next few weeks.
GB will learn their three group stage opponents at the official draw on Tuesday, although it is likely they will be kept apart from fellow European contenders Spain - who are almost certain to include Manchester United 'keeper David de Gea - Switzerland and Belarus, plus Brazil, who will almost certainly be a fellow top seed.
Argentina, USA and Australia are amongst the most notable teams who have not qualified but the presence of Uruguay, Mexico and New Zealand should generate wider interest.
The final place in the men's competition will be decided at Coventry on Monday, when Senegal take on Oman in a play-off.