Rodgers targets next level
Swansea manager Brendan Rodgers is keen for the club to invest in order to go to the "next level" in the summer.
Last Updated: 20/04/12 3:50pm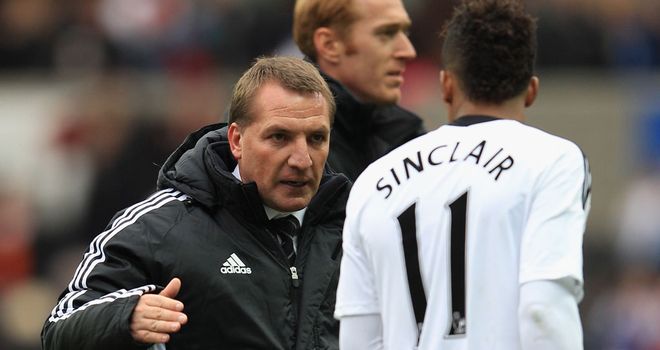 Swansea manager Brendan Rodgers is keen for the club to invest in order to go to the "next level" in the summer.
With the Swans all but certain of top-flight football next season, Rodgers' thoughts have already turned to improving his squad.
And while the 39-year-old is aware there will not be unlimited funds, he is confident that players can be identified to help Swansea kick on.
"We are not all of a sudden going to go out and spend millions and millions on players but we will do everything we can to bring players in who can make a difference for us," he told the South Wales Post.
"And it would be nice if we are able to do a little bit more (in terms of finances) this summer. You look at us this season, at the quality we have produced, and it would be great if we had the opportunity to keep on progressing.
"Because of how we work here it's reasonably straightforward to find the players with the DNA we want, but then it is about affordability and availability."
Swansea's record transfer fee is £3.5million, which they paid Watford for Danny Graham last year.
Quality
Rodgers believes they must continue to add quality to the squad, although he suggests that does not always mean big-money signings.
"We will need to invest in the summer, there's no doubt about that. You look at the clubs who have stayed up in the past," he added.
"They have invested at the next level and the next level after that. Hopefully we can grow as well, although I would not want to take my eye off the rough diamond we can polish up."
Swansea travel to Bolton on Saturday knowing that a win would mathematically guarantee survival but, in truth, with a 13 point lead over the Trotters in 18th the job has already been done.
"It has been a wonderful return in terms of points," added Rodgers.
"Ultimately our goal was to stay in the league, so to be in this position with four games remaining leaves us very proud.
Improve
"But we want to improve and we still have plenty of improvements to make.
"What's more, we are still not mathematically safe.
"It won't be difficult to motivate the players in the final games. We have come off a wonderful learning experience of late.
"They are very motivated to finish the season strongly and they will be up for every game between now and the end of the season.
"There are many reasons why we want to finish as high as possible. The finance involved at this level is incredible and every place counts for a lot and for a club like ourselves, that extra place could go towards an extra player.
"And for the players, the higher they finish, they more they get in terms of a bonus - and those bonuses will be well deserved."