Coyle - It's in our own hands
Bolton boss Owen Coyle is targeting three points against Swansea on Saturday as he continues to shrug off the "uncontrollables" this season.
Last Updated: 20/04/12 4:44pm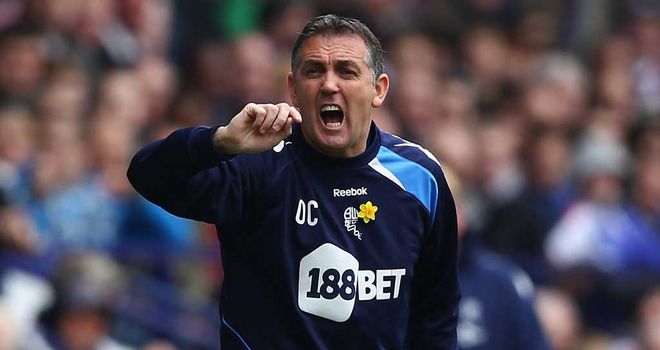 Bolton boss Owen Coyle is targeting three points against Swansea on Saturday as he continues to shrug off the "uncontrollables" this season.
The Trotters were not involved last weekend as their scheduled Premier League clash against Tottenham was postponed because of Spurs' FA Cup commitments.
And they had to sit and watch while fellow strugglers Wigan put together back-to-back wins over Manchester United and Arsenal.
Bolton now find themselves in the drop zone, two points behind QPR and five adrift of Wigan, but - thanks to their two games in hand - with matters still in their own hands.
It is just the latest tricky situation the club has had to deal with this season.
Their run of bad luck began before the season had even begun when star winger Lee Chung-yong suffered a double leg fracture, and was soon joined on the long-term injury list by playmaker Stuart Holden.
They have also endured the trauma of Fabrice Muamba's on-pitch cardiac arrest last month, although the midfielder's heartening progress since has buoyed the camp.
Difficulties
And Coyle is determined to overcome this latest difficulty caused by events out of their control.
Coyle said: "You've got to hand enormous credit to Wigan for the way they've gone about their job. But the bottom line is it didn't matter what anyone else did. We'll shape our own destiny and it's in our own hands.
"We've got six games left as opposed to everyone else having four and what we've got to do is gather the points that will keep us in the Premier League, and we're more than capable of doing that.
"Ideally we'd have loved to have been playing but it's one of the uncontrollables over the season that has gone against us.
"But we've never got too down or felt sorry for ourselves, we've got a smile on our face. There's 18 points out there and we've got to gather as many as we can."
Asked if he had a points tally in mind, Coyle said: "We need to make sure we get one more point than three other teams.
"If you asked people two months ago what the points target was it would certainly have been lower than what some teams are on now because everybody in and around us, as well as ourselves, have picked up."
Losses
Bolton won three games in a row in March but a 3-0 home defeat to Fulham brought their revival to a halt and a 2-0 reverse at Newcastle made it two losses on the bounce.
But Coyle is confident his team can get the win they need against Brendan Rodgers' much-praised passers.
"Swansea are a terrific side," said Coyle. "They love being in possession of the ball, passing and moving, and they've been a tremendous addition to the Premier League.
"Every game is a tough game but we're at home and we're expecting another bumper crowd.
"We were on a terrific run when we won three back-to-back. In the last home game I felt the first half an hour against Fulham was okay but we didn't get back to the same level after Clint Dempsey scored a wonder 35-yard free-kick.
"At Newcastle it was a terrific performance and on any other day we'd probably have won that game. So that's the level of performance we need. If we get to that, then we have games we feel are winnable, and Saturday's one."