One Jel of a bet
An Everton fan had a bumper payout from Sky Bet after watching his side stun Manchester United in a 4-4 thriller.
By Helen Jacob
Last Updated: 23/04/12 5:43pm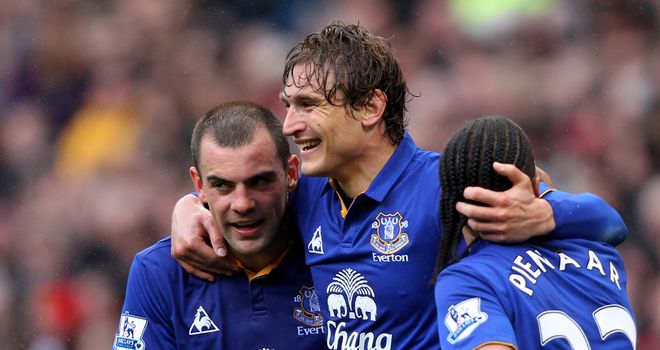 The drama that unfolded at Old Trafford on Sunday during the second half of Manchester United's eight-goal thriller with Everton stunned even the most experienced football pundit but, astonishingly, one solitary Sky Bet customer managed to predict both the 4-4 draw and Nikica Jelavic scoring first, landing a 4,000/1 gamble.
The lucky Everton fan, who wishes to remain anonymous, staked £1 on a scorecast bet combining the 4-4 correct score prediction and Jelavic to score first.
Sky Bet believe the Preston man is the only punter in the country to have backed the immensely unlikely outcome.
Speaking of his wonder bet, the Sky Bet customer said: "I just put £1 for a bit of interest on the day. Most people back 2-1, 1-1 and 1-0, which is where all the money goes, but I prefer to bet on the big scores. Pity I didn't put a fiver on!"
Incredulous football fans around the country congratulated the Sky Bet flutterer on Monday after the firm tweeted about his phenomenal wager, trending on Twitter in several UK cities as a result.
The customer, himself a Twitter user, was reluctant to reveal his identity, perhaps for fear of being inundated by tip requests!
Sky Bet's Helen Jacob said: "We're gobsmacked that anyone at all managed to call the 4-4 scoreline, let alone get the first scorer right too and we reckon our man must be one of a very select group, if not the only person to have backed the winning scorecast."