Murphy laughs off England talk
Fulham captain Danny Murphy has laughed off suggestions that he could be set for an England recall under Roy Hodgson.
Last Updated: 07/05/12 3:37pm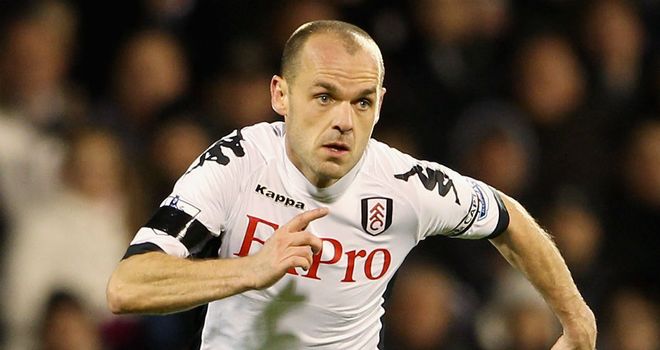 Fulham captain Danny Murphy has laughed off suggestions that he could be set for an England recall under Roy Hodgson.
The 35-year-old last played for England in 2003, but with his former Fulham boss Hodgson now in charge - some reports have claimed he could be in line to be recalled to the international scene.
But Murphy has dismissed claims that he could be involved again with the Three Lions.
"I have not thought about that for a long time," he said.
"My only thought when I heard he got the job was pleasure for him.
"I know what a gentleman he is and what a knowledgeable man he is and the players will certainly go into the Euros knowing what he wants from them. They will be well organised.
"Ray (Lewington) is a terrific coach as well and together they - them two and Mike Kelly - turned Fulham into nearly a Europa League-winning team.
"He will do his country proud. I think he is a terrific coach, an absolute
gentleman and I am really pleased for him."
Influential
If England scouts were at Craven Cottage at the weekend, they would have seen another influential performance by the Fulham captain.
Murphy led his side to a 2-1 victory over Sunderland to put the Whites on 52 points heading into the season finale against former club Tottenham next weekend.
"It is always nice to finish [your home campaign] with a win," said Murphy, who has yet to extend his contract past the summer.
"I think for the majority of the season, to be honest, we have played well here.
"The fans have witnessed some good football and I think in spells against Sunderland we played some terrific stuff.
"Even though Sunderland had some good spells as well, I think overall on chances we probably just edged it and deserved the win.
"When you finish the season, it is nice for the fans to go away and have a good memory for the return next season.
"We are playing for positions in the league, which is for both pride and financial reasons.
"Let's be honest, every time you finish a couple of places above where you anticipate is good for the club, who get more money from the Premier League, and in terms of your own personal pride to try and beat what we have already done.
"Our best is seventh and I don't think we can beat that and we got eighth last year.
"To try and get in the top eight would be a terrific achievement. With one game left, why not?"