Pulis tips Crouch for Euros
Stoke City boss Tony Pulis has backed Peter Crouch to be given the nod ahead of Andy Carroll for England's Euro 2012 squad.
Last Updated: 12/05/12 4:09pm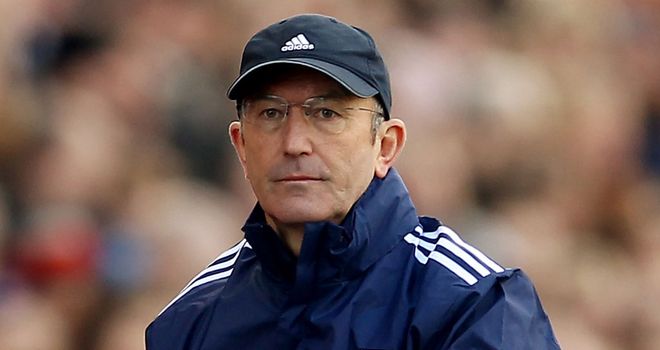 Stoke City boss Tony Pulis has backed Peter Crouch to be given the nod ahead of Andy Carroll for England's Euro 2012 squad.
With new Three Lions head coach Roy Hodgson planning to name his 23-man squad on Wednesday, Pulis insists that there is only one man he would make extra room for in Poland and Ukraine.
The 31-year-old striker, who arrived at the Britannia Stadium in a £10m deal last summer, has already scored an impressive 22 goals in 44 appearances for England, despite making his last appearance in November 2010.
Carroll has hit form in the past few weeks, scoring in the Reds' Wembley FA Cup clashes with Everton and Chelsea.
"I'm just hoping and praying he gets selected because I know it's what he wants and, also, I think he should," said Pulis.
"Roy Hodgson has to do what he has to do, but, for me, I would have Crouchy there and able to come off the bench if required.
Game changers
"In big tournaments you need game changers. Peter might not be going there to play every single game, but one thing is for sure, when he comes on, he can change them.
"I will be really disappointed if he's not chosen to go, especially after the season he has had for us.
"I won't speak to Roy on the matter. He will know what is in his mind and he has to make the decision."
Pulis is adamant that Crouch, who scored an average of a goal every 99 minutes for the national side, fits the bill as a super sub, as he can come on and change the game if needed.
"Andy Carroll's time will come, but Crouchy is the one for me right now, without a doubt," said Pulis.
"People are still talking about the goal he scored for us against Man City, but the beauty of him as a striker is that he scores all types of goals.
"If you were to make a compilation of the goals he scores, you would see that he gets absolutely all sorts.
"If you are chasing the game and pumping the ball into the box or teams are sitting back, then Peter is the ideal person to bring on."
Dream
Meanwhile, Pulis is in no doubt Stoke have taken another step forward as they complete their fourth consecutive season in the Premier League at home to Bolton on Sunday.
Pulis' original top-10 target is out of reach but victory over Wanderers - a result that would relegate the Trotters - would take Stoke on to 47 points and equal their best tally since promotion in 2008.
The club have big plans off the pitch with the continued development of the academy and training facilities, and Pulis said: "Every year we stay in the Premier League is an absolute dream for us as a football club and it gives us the opportunity to keep building the roots to ensure this club will grow stronger.
"We have to improve. As soon as we stand still then you start going backwards. The important thing is we try to do that year after year after year. And we've managed to do that. We've taken a hell of a lot on this year.
"There's a lot of teams in the Premier League who have got knocked out first round in the cups and haven't been involved in Europe so have had a free run at playing league games - we haven't done that because we want to do well in those competitions."