Davies - I want to be the hero
Kevin Davies is hoping to grab the goal that keeps Bolton in the top flight, in what could be his final game for the club.
Last Updated: 12/05/12 4:30pm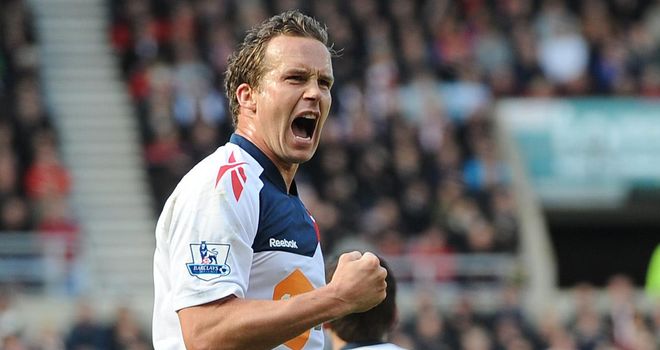 Kevin Davies is hoping to grab the goal that keeps Bolton in the top flight, in what could be his final game for the club.
The Wanderers striker is out of contract in the summer and, after spending nine years at the Reebok Stadium, the 35-year-old knows he could be surplus to requirements next season.
And if the trip to Stoke is to be his final outing for the Trotters, Davies is determined to make it one to remember, and help Bolton get the win that could keep them in the Premier League.
"It's probably the biggest game I've had for Bolton," he told the Daily Mail.
Hero
"We've been close before but it's never been this desperate. Hopefully someone will step up and be the hero. I can't wait for the game to come along.
"It's a weird kind of feeling, but I've been visualising seeing all our fans down there. That nail-biting stuff going into the last few minutes with clearances off the line before someone emerges as the hero.
"I've been dreaming of that all week. And if it was to be my final game, it wouldn't be a bad way to go out, doing something special to keep us up. You can look at it as a chance of real glory but not just self-glory.
"There have been games in the past where I've scored important goals and risen to the occasion under different types of pressure. We'd all love to be the hero in this situation."
Bolton's fate was taken out of their hands last Saturday when they let a two-goal lead slip at home to West Brom, whilst rivals QPR beat Stoke at Loftus Road. But Davies insists they will not be focused on Rangers' progress at Manchester City.
"We've said all along that we don't really want to concern ourselves with what's going on elsewhere," he continued.
"At half-time you have a little nosey, and last weekend you sensed that something had gone on at QPR, but we have to take care of our own destiny.
"You're fighting for yourselves, your families, your futures, and of course the club because it's not just players' jobs that are at risk if we go down. That's what we're playing for."
Challenge
The former Southampton man has seen it all during almost a decade in the North-West, but he believes Sunday could be the biggest challenge yet.
He said: "The club means a lot to me and I've loved every minute of it. There's always been battles going on - fantastic times where we were even pushing to make the Champions League, getting into Europe, we've had a Carling Cup final and an FA Cup semi-final, and this time we've got something even more important to go for."
Meanwhile, Owen Coyle is confident his side will earn a 12th consecutive Premier League campaign, after overcoming the tiredness that the Wanderers manager believes contributed to last weekend's late capitulation.
He said: "We played five games in 15 days. Now we have had a full week to get freshened up and full of that energy that we are known for, go to Stoke and win that game. I truly believe we will stay up."