Balotelli - More to come
Manchester City striker Mario Balotelli has branded himself a 'genius' but admits there is still room for improvement in his game.
By Patrick Haond
Last Updated: 29/05/12 11:57am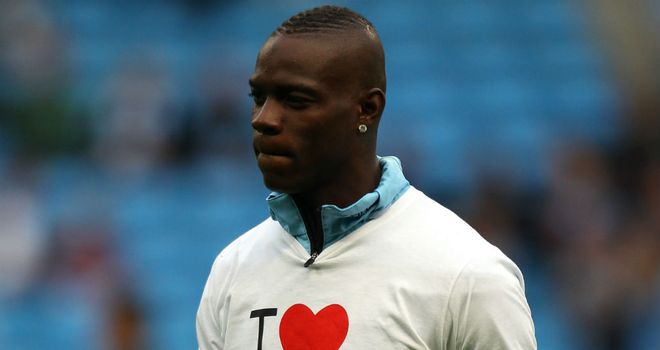 Manchester City striker Mario Balotelli has branded himself a 'genius' but admits there is still room for improvement in his game.
The Italian has frequently made headlines since joining City from Inter Milan two years ago, but not always for his prowess on the pitch, with the 21-year-old never far from controversy.
But despite a turbulent season, Balotelli ended the campaign with a Premier League winner's medal, netting 13 goals in 23 appearances for Roberto Mancini's side.
Talent
The frontman has been linked with a return to Serie A with AC Milan this summer but has repeatedly made it clear he is keen to stay at the Etihad Stadium and keep improving.
Balotelli feels he possesses a "beautiful and wonderful" talent but is confident he has more to give, with his sights set on eventually winning the coveted Ballon D'Or.
"My dream is to become in time the strongest footballer. I know I am strong, but if I go on working I know I can become much stronger," he told France Football.
"The Ballon d'Or is the most important title after the World Cup and European Championship. It is an objective. I think I could be able to win it one day. But I still have to work a lot.
"When I decide to score, I score. I know I am strong, but I believe it is not enough yet. I can kick fine, dribble very well, but I still have to improve."
He added: "Yes, I think I am a genius, but not a rebel. I have my life, my world, I do what I want, without annoying anyone. I believe I am more intelligent than the average person.
"The talent God gave me is beautiful and wonderful, but it is difficult. Because you are always facing other people keen to judge you.
"There are few people with such talent, so there are few able to judge what I am doing."
Balotelli has reiterated he is keen to remain at the Etihad next season despite continued interest from Italy.
Asked if he would stay, he replied: "I don't know. I believe yes. You should ask (his agent) Mino Raiola.
"Personally I would like to stay at City, who I am fond of. Yes I would like to stay."
Gratitude
The striker also expressed his gratitude to City boss Mancini for keeping faith in him, adding: "Roberto Mancini has known me since I am a kid. He really knows me. More than a coach-player relationship, it is a friendship between us.
"Mancini has always trusted me. It is not that easy when b******s talk to the press, people saying they saw you here and there at night.
"When I don't play it is then difficult to say: 'Mario takes the team's lead and makes it into a win'. However that is what Mancini has always done. I will always remain grateful for that."