Rodgers to relieve pressure
New Liverpool boss Brendan Rodgers claims he wants to take the pressure off his players and heap it on the Anfield opposition.
Last Updated: 02/06/12 12:24pm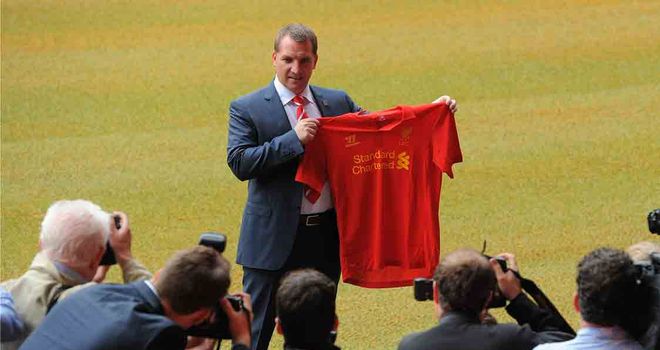 New Liverpool boss Brendan Rodgers claims he wants to take the pressure off his players and heap it on the Anfield opposition.
Rodgers was appointed as Kenny Dalglish's replacement on Friday and is tasked with making Anfield an intimidating venue again next season.
Liverpool endured a difficult campaign in front of their own fans, winning just six of their 19 home league games in 2011-12.
It has proven a challenge for the likes of Jordan Henderson and Andy Carroll who have been saddled with the pressure of huge transfer fees.
But Rodgers has offered Carroll his support and revealed his intention to relieve the weight of expectation on everyone at the club.
The 39-year-old said: "He came here for an awful lot of money and he's still very young, but I don't think anyone would have argued, when he did terrifically well at Newcastle.
"But when you come to a club like this the shirt weighs much heavier than any other. The expectation - and the weight of expectation - is phenomenal.
"My job next year is to try to lift some of that weight off the shirt. I'll take the pressure.
Focus
"The players can just focus on performing and if you do that you will get the result eight or nine times out of 10 because of talent.
"That will be the same for Andy and any other player. Then we'll take time to review where we're at and look forward."
Rodgers knows what an intimidating place Anfield can be having had mixed fortunes there with visiting teams in the past.
His Swansea side secured a goalless draw at Liverpool in November, while he was also a part of the Chelsea backroom staff when the Reds beat them there in a UEFA Champions League semi-final in 2005.
"I want to use the incredible support to make coming to Anfield the longest 90 minutes of an opponent's life," said Rodgers.
"I want to see great attacking football with creativity and imagination, with relentless pressing of the ball.
Terrific
"I know what it's like, because I had a team like that at Swansea.
"That was with a terrific little club and a terrific group of players. When people came to Swansea, it was probably the longest 90 minutes of their lives.
"So after 10 minutes, when they haven't had a touch of the ball, they are looking at the clock and seeing only 10 minutes gone. It's a long afternoon."
He added: "The Chelsea players said they had never experienced support like it.
"That was ultimately what won the game and that is what I want to do here.
"When I came as a manager with Swansea, it was a really proud moment. To play well and then get a standing ovation meant a lot. It was a great honour."