Reo-Coker wants Premier deal
Free agent Nigel Reo-Coker is still hoping to secure a contract with a Premier League club.
Last Updated: 24/08/12 9:43am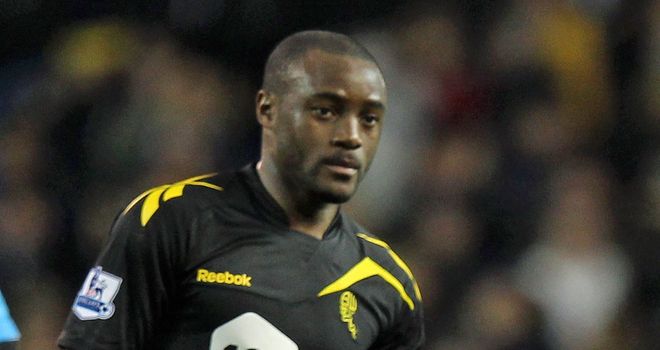 Free agent Nigel Reo-Coker is still hoping to secure a contract with a Premier League club.
The 28-year-old has been without a team since leaving Bolton following their relegation at the end of the season.
But the former West Ham midfielder accepts there are a number of experienced professionals in a similar situation as clubs continue to tinker with their squads.
"There are a lot of top players still out there without a football team," he told Sky Sports News.
"It's the situation out there for a lot of players. That's the environment football is in at the moment.
"It's just the professionalism of keeping fit and making sure I'm ready for whatever will happen.
"I don't think clubs have finalised their squads. They haven't submitted that in yet.
New situation
"The season is only one week old. It's a new situation for me to be in.
"I was in a similar situation last year but obviously I got a club before the season started.
"It's a new experience for me. All I can do is keep my professional head on and continue to maintain my fitness levels and work hard."
Reo-Coker enjoyed a successful season with the Trotters on a personal level - playing in all but one of their Premier League games - and he is convinced he has plenty to offer a top-flight side.
He added: "I still see myself as good enough for the Premier League; as a Premier League player.
"I've enjoyed every year I've played in the Premier League and made the most of it.
"I've been lucky enough to play there for so long now with a lot of games under my belt and a lot of experiences against the best players in the world."
Overshadowed
Bolton's season was overshadowed by the distressing events at White Hart Lane in March when Reo-Coker's team-mate Fabrice Muamba suffered a cardiac arrest on the pitch.
Muamba eventually made an astonishing recovery but Reo-Coker admits the incident has made a huge impact on him.
"To witness something like that changed my life," he said.
"It altered my perception on certain things that were going on - things that you used to think were important.
"I'm just happy that Fabrice is OK, and his family. But it did change my life."