Laudrup hails Hernandez
Swansea manager Michael Laudrup has hailed Pablo Hernandez's mentality ahead of his impending signing from Valencia.
Last Updated: 30/08/12 7:31pm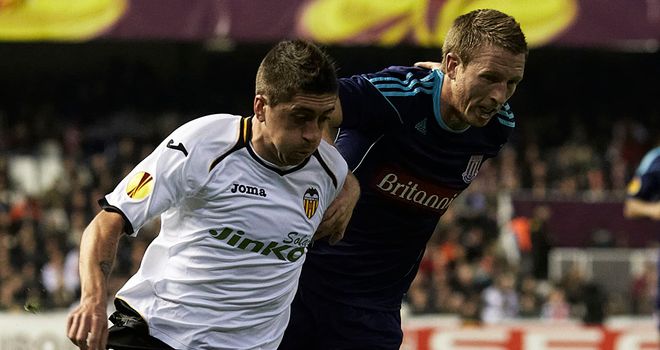 Swansea manager Michael Laudrup has hailed Pablo Hernandez's 'right mentality' ahead of his impending signing from Valencia.
Laudrup's pursuit of 27-year-old Hernandez has been a lengthy one, and the Dane had appeared to be exasperated as Valencia continually upped the asking price for a player he previously worked with at Getafe.
Swansea had seen offers of £4m and £5.1m rejected, but a third and final bid has been accepted by the La Liga club.
Hernandez had spoken of his desire to be reunited with Laudrup and was left out of Valencia's squad for their opening two games of the season.
And the Spanish ace will now travel to south Wales to discuss personal terms and undergo a medical prior to Friday night's transfer deadline.
Laudrup said: "I managed Pablo in Getafe, he did fantastic for us. He did so well and went back to Valencia, who are the equivalent in Spain of Arsenal over here.
"I think he has played 27 Champions League games in the last three seasons and made his debut in the national team.
"I am looking forward to having him here, he is a good player with right mentality.
"I am getting a player who only wanted to come here and play for us and that's great.
"He specifically wanted to come here. The other players who have come here have come from smaller clubs, and here is a player from the third biggest club in Spain and he wants to come here. It is great for us."
Sinclair test
Swansea have agreed a fee of £6.2million with the Premier League champions Manchester City for Scott Sinclair, rising to £8m with add-ons.
Laudrup magnanimously wished Sinclair all the best with his switch to City, with the 23-year-old in the process of agreeing personal terms.
The Dane believes Swansea had little option but to let the player go once he had his heart set on a move.
Many believe Sinclair may struggle to get regular football at the Etihad Stadium, and Laudrup admits it will be a "difficult" test for the former Chelsea player.
"Scott is going to a huge club with a lot of great players.
"He has a lot of quality but he will have to fight for his place in the first XI.
"But I wish him the best and I think it was best for him to move as he had made up his mind, and if you have a player like that it is better to let him go if the figures are okay for the club."
A move for Middlesbrough's Marvin Emnes now appears less likely, but Laudrup did confirm midfielder Andrea Orlandi and full-back Fede Bessone are set to complete permanent moves to Brighton and Swindon respectively.