Hugo Lloris on way to England - but no transfer deal agreed with Spurs say Lyon
Lyon have given permission for Hugo Lloris to travel to England, but insist that they have not agreed a deal with Spurs.
Last Updated: 31/08/12 3:03pm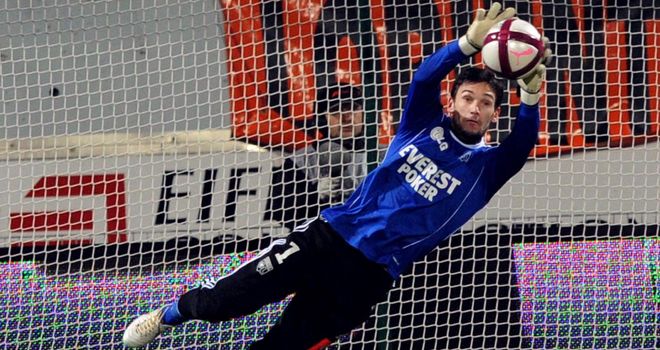 French reports have claimed that a deal worth 12million euros (£9.5million) was in place - although Lyon president Jean-Michel Aulas says this is not the case.
However, Aulas has allowed Lloris to make the journey across the Channel - just in case Spurs do manage to broker terms.
"Nothing is done, but there are close discussions," said Aulas.
"He has been allowed to go to the club Tottenham, to be ready in case [a deal happens]."
Speaking from the Europa League draw, Aulas also revealed that he has never endured such a difficult negotiation for a player.
"We have had people speaking all night with Daniel Levy. He talks a lot and goes back on what we've agreed in writing.
"The things as they were at 5am were not the same at 10am. I think we have to make sure we get a certain amount of value because it's important that Hugo can go to a quality club that allows him to do himself justice from a value point of view, so that he can feel right about it.
"At the moment we're talking about whether he can come back to say his goodbyes to the supporters, to his team-mates, so we can honour him, this truly great player and brilliant man.
Aulas feels the deal is currently at a tentative stage and could go either way.
"I would put it at 50-50 that Hugo goes to Tottenham. Although from the outset we've submitted to agreements I would now put it at 50-50 that he'll be going there," he added.
"Agreements have not at all been respected. We've done what we can. Hugo has been troubled by the difficulty in these negotiations.
"He's one of the best in Europe in his position. Our transfer window is open until 4 September but for Tottenham the English transfer window closes on 31 August. Either it happens tonight or not at all for Hugo Lloris.
"It's been very, very difficult. I've got 25 years of experience as a president of a club and it's our 16th participation in a European competition in a row. But this is very rare in the football world.
"The negotiation with the Tottenham directors has been the hardest I have ever had to undergo in these 25 years.
"We had email exchanges which have been contradicted, so that's made it very complicated. It's difficult. The Tottenham board's theory is to explain that the economic market is very hard and so we have to get used to renegotiating.
"But for us, who are attached to a player of the quality of Hugo Lloris, and such is the value of the transfer, that causes us to ask questions.
"He has agreed personal terms with Tottenham, he remains under that impression, but since we have had Hugo Lloris on the telephone for a long time overnight and this morning and he's completely undecided about what happens next.
"We've been negotiating all night. The first negotiation was at the start of the window, about a month-and-a-half ago, through an intermediary who was a French lawyer, who lives in Lyon.
"And then nothing for about a month-and-a-half. The negotiation then picked up again about a week ago."