Manchester United striker Robin van Persie is glad to have worked under Sir Alex Ferguson and Arsene Wenger
Robin van Persie says it is a 'special' feeling to have worked under both Sir Alex Ferguson and Arsene Wenger.
By Gerrit van Leeuwen
Last Updated: 07/09/12 2:31pm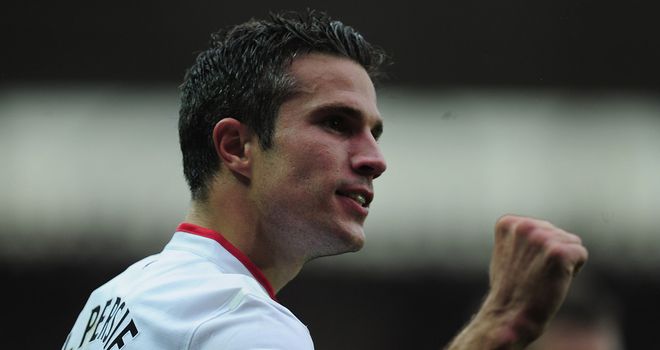 Just a handful of players have featured for both Manchester United and rivals Arsenal over the course of their careers, while Holland international Van Persie and former France defender Mikael Silvestre are the only two to play under both managers.
The United striker, who left the Gunners for Old Trafford over the summer, has good memories of all of the coaches he has worked under, but says the experience of having been managed by both Ferguson and Wenger is particularly special.
"I have had special coaches all in their own way," he told OnsOranje, the official fanclub of the Dutch FA.
"(Bert) van Marwijk, Wenger, (Marco) van Basten, Ferguson. Piece by piece they are special.
"I think I have been (one of) the only players ever who has worked under Wenger and Ferguson. That's special."
Van Persie has announced himself at Old Trafford with four goals in his first three games but berated himself for his penalty miss against Southampton last time out.
However, the striker went on to redeem himself with two more strikes after that blunder to win the game and feels his response was a sign of his maturity as a player.
Disappointments
"A career won't be always a bed of roses. You have disappointments," he said.
"Look at my missed penalty kick against Southampton last Sunday. That is what you call a disappointment.
"Taking a penalty kick in that way when you are 2-1 behind. That's just bad.
"I couldn't explain it, not even to myself. And what you do next? Do you stay disappointed? Or are you going to hunt, and get over it?
"In the game I put it behind me, thankfully. Many people can get swept up after something like that. It's happened to me (before) and it's all over then.
"Someone who is 18 years old wouldn't score two times after it. I wouldn't have done a couple of years ago.
"You have to be lucky, but you also have to force it."