Mikel Arteta believes Arsenal can fight for the Premier League title
Mikel Arteta believes Arsenal's draw against Manchester City proves they can challenge for the Premier League title.
Last Updated: 24/09/12 3:24pm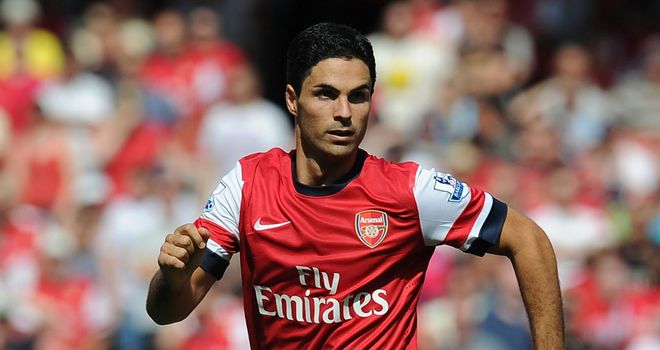 The Gunners became only the third visiting side since December 2010 to avoid defeat at the champions.
Arsenal are fifth in the table, four points behind Chelsea, who they face at Emirates Stadium on Saturday, and Arteta believes his side's performance at City suggests they are strong enough to fight for the title.
"I don't know what is going to happen but in the last few years it is clear that we haven't won the Premier League title and we have been far from it," Arteta told the London Evening Standard.
"What we are trying to do is get as close as we can and keep building that belief that we are as good as the Manchester clubs.
"If we carry on until March or April, when it is really tight and hang in there, the spirit we have got in this team can get us something.
"The attitude has been spot on and we know it can only be like this. It cannot be any other way like a game, or 20 minutes in a game when you relax, because you are going to pay for it and against big teams like this, even more.
"For us, it is good because we seemed to believe that we were as good as them, at least. Yesterday we were better than City. If we are, then all we need is consistency. That comes in training and putting your level higher so nobody is allowed to relax."
Arteta insists the mood in the camp is good and he praised coaches Steve Bould and Neil Banfield for the impact they have had on the side since being drafted into Arsene Wenger's backroom team.
"It has been really good because everybody synced really quickly," added Arteta. "The new players, Steve Bould and Neil - they joined and it all clicked well.
"There is not a bad feeling when somebody is not playing, everybody knows they are going to get a chance because the manager has been changing a few players every week.
"Everyone is enthusiastic and you can feel that. The supporters as well because they were fantastic yesterday.
"They were buzzing and were right behind the team from the start. With some disappointments they had in the summer, they still believe in us and we have to show for them."