Aston Villa striker Darren Bent wants to hold talks with manager Paul Lambert
England striker Darren Bent says he expects to hold talks with Aston Villa manager Paul Lambert this week.
Last Updated: 02/10/12 7:52am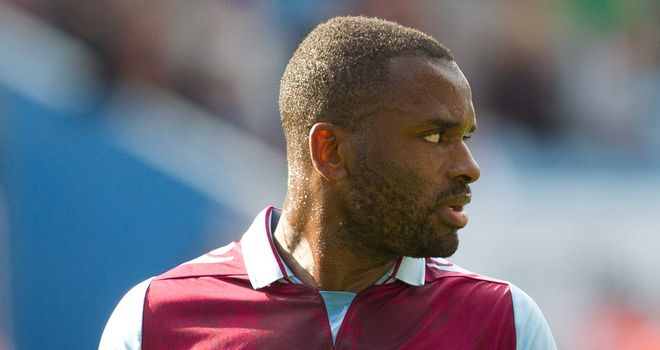 Bent has been dropped from the Villa line-up last week, which came after he lost the captain's armband earlier last month.
The former Tottenham and Sunderland front-man admits he is frustrated with how his season has started.
"It's been a c***** couple of weeks, finding out I was no longer captain before the game (against Swansea)," said Bent.
"Then to find out when I got here (for West Brom) that I wasn't playing - it was disappointing but at the same time, the lads played well and over the weeks we have been slowly getting better and better.
"I can't remember the last time I was left out. I only found out when the gaffer read the team sheet out. I didn't know. It is frustrating and disappointing.
"All I can keep doing is what I did against West Brom - to come on and try to notch goals and go from there."
Asked what Lambert had said about leaving him out, Bent replied: "Nothing. I've not spoken to the manager at all about why he left me out. I'm sure we'll probably speak next week.
"You are always frustrated when you are not playing games, and the way I found out I wasn't playing."
Wake-up call
Bent acknowledged being dropped could have been the wake-up call he needed.
He said: "Maybe. Strikers are always judged on scoring goals and, getting the one against Southampton last week, I thought I could build on that. But it just wasn't meant to be.
"Hopefully I'll score more goals now. I'm always a confident character and, if I get the chance, I'll score the goals."
Hodgson was at Villa Park to witness Bent's equaliser.
"I didn't know he was here but hopefully the goal will give me a boost and I'll be in his plans," Bent said.
"I feel I'm going in the right direction as far as goals are concerned.
"I just wanted to get on the pitch and show I can score goals if given the chances."