Dzeko out to be City's No. 1
Edin Dzeko has told Roberto Mancini he wants to stay and fight to become Manchester City's top striker.
Last Updated: 02/10/12 12:41pm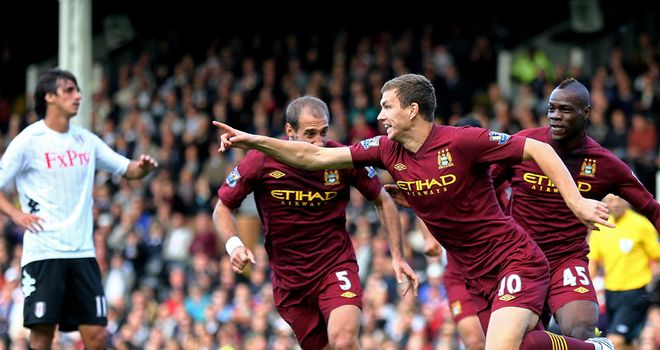 The Bosnian was tipped to leave the club in the summer, with Juventus, AC Milan and Bayern Munich reported suitors, but he stayed on and has scored four goals already this term - including the winner against Fulham with his first touch.
Sergio Aguero and Carlos Tevez have been Mancini's preferred starting pair, Dzeko knows a busy campaign at home and in Europe means his chance will come.
"There is myself and three fantastic strikers so obviously we can't all play at the same time so sometimes it can be difficult to find your rhythm," he told the Manchester Evening News.
"The more games you play, the more goals you are likely to score but with so many good strikers at the club, that's how it is going to be and as a player, you accept that and just try your best each time you play and that's what I do and will continue to do.
"Every time I see a paper - for what seems like for a year or more - there is a story saying that I am leaving City or that I want to go.
"But I've never said that so the stories don't come from me - I've always wanted to stay at City and fight for my place and my motto has always been: 'Never give up'.
"I hope the City fans, who have always been fantastic towards me, have seen I can score some important goals for the team and that's what I want to carry on doing."