Sunderland winger Adam Johnson reveals frustrations of life at Manchester City
Sunderland winger Adam Johnson feels youngsters at Manchester City have little chance of becoming first-team regulars.
Last Updated: 06/10/12 5:10pm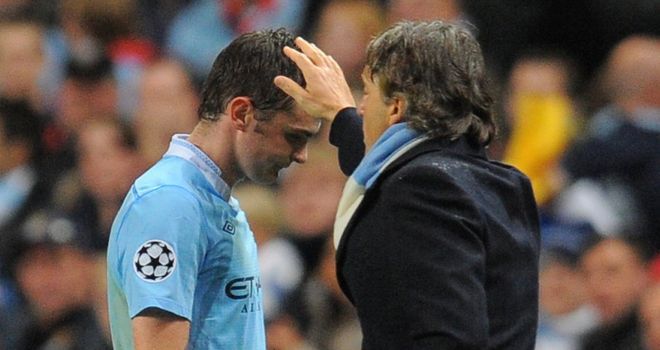 Johnson spent two-and-a-half seasons at the Etihad Stadium before joining the Black Cats in the summer because of a lack of opportunities.
And the 25-year-old England international reckons youngsters should avoid the Premier League champions if they are hoping to play football.
"Now, if I was a young lad, I wouldn't go to City," Johnson told reporters.
"It is excellent when a club like City come for you. Hard to turn down. But you don't actually play for the champions - you're a squad member, which is totally different.
"It's not that you're not good enough, it's just that the likes of Yaya Toure are going to play ahead of you, no matter what you do."
Frustrated
Johnson won the FA Cup and the Premier League in his time at City but was in and out of the side and it cost him a spot in England's Euro 2012 squad.
The former Middlesbrough man feels he is not the only player likely to have become frustrated at being sidelined by City boss Roberto Mancini.
He added: "I think it would only be a matter of time before senior players become unhappy.
"You can probably have too many world-class players at once - everyone wants to play and they're not happy to be squad players.
"You're going to have trouble picking a team, and leaving people in the stands. I was one of them last season.
"He (Mancini) wanted that many players in the squad. He's got to deal with it, hasn't he?"