Newcastle's Hatem Ben Arfa feels his lengthy injury lay-off made him stronger
Newcastle's Hatem Ben Arfa admits he feared for his career after breaking his leg but feels stronger as a result.
Last Updated: 07/10/12 1:09pm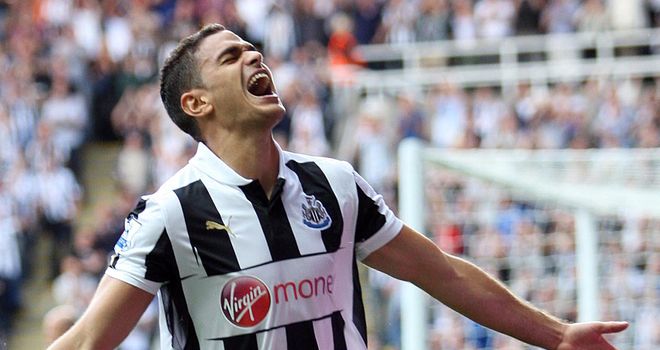 The Frenchman spent a lengthy spell on the sidelines after his leg broke in two places following a tackle by Nigel De Jong when the Magpies played Manchester City back in October 2010.
The 25-year-old says he was angry when the injury first occurred but, in retrospect, feels he is a better player as a result of the incident.
"I did think my career could be over," he told The Telegraph. "It is impossible not to think a bit like that when your leg is broken in two places.
"I was angry about it at first, but as time has passed, I'm not angry anymore. It was a hard tackle, but I'm OK and it has made me a stronger person, maybe a better person.
"When you are not playing football for such a long time it gives you a lot of time to think. It made me contemplate what football meant to me. I think it was an important period. I realised a football career is something that is over very quickly. I needed to make the most of the time I had, not waste it."
Ben Arfa, who joined Newcastle from Marseille in 2011 after an initial loan spell, believes he has grown out of his reputation of being a temperamental player.
"I had a reputation for being hot-headed, but I feel as though I've grown up," he said.
"I'm calmer now, more serene, but that comes from being more mature."
Selfish
He added: "Young footballers are selfish. I was selfish. It was all about me and what I did. When you are young you think about showing off, you always want to prove yourself, to be the centre of attention.
"You want people to say you are the best, but as you get older you realise it's a team game and to bring out the best in yourself, you have to put yourself at the service of the team.
"I'm arriving at my peak, I'm starting to realise my full potential. I don't think I'm quite there yet, but I'm pleased with how things are going. I'm a better player now than when I signed for Newcastle.
"I'm more mature as a person and more mature as a footballer. The two go hand in hand, the basis of the player is the person. I've grown up."
The midfielder feels some credit must go to Toon manager Alan Pardew for his newfound maturity, adding: "I've not had a close relationship with a manager before
"He knows when I need to be praised and when I need to be criticised.
"He asks me questions. He doesn't let me do what I want, but he doesn't just tell me what to do either.
"It's the best relationship I've had with a manager and he has been very important to me at Newcastle. He is the coach who has understood me the most."