French striker Olivier Giroud admits it is taking time to adjust at Arsenal
Arsenal striker Olivier Giroud says he is still adapting to life in England following his summer move from Montpellier.
By Patrick Haond
Last Updated: 09/10/12 3:16pm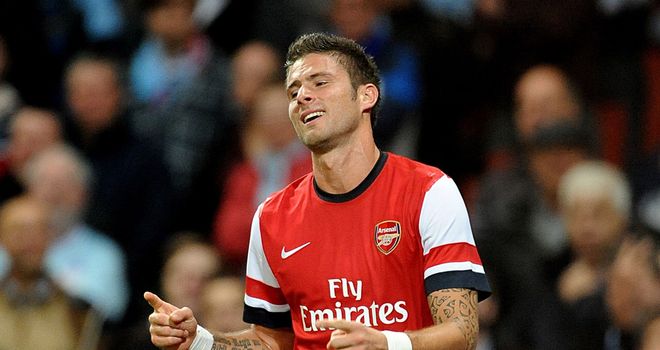 The Frenchman finally broke his Premier League scoring duck on Saturday in his seventh top-flight appearance for the Gunners when he netted the opener in the 3-1 triumph at West Ham.
Giroud admits he is still settling into life at the English club but insists he is in the "perfect moment" to embrace a foreign adventure.
He told France Football: "I could speak basic English (before) but not enough to really talk with my team-mates, understand the coach's talks and adapt to my new country.
"You have to adapt. You have to learn habits and customs of the country when you arrive.
"The easiest thing would be to remain with your fellow countrymen, and I can already see that here.
"I am not improving as quickly as I should, even if I'm speaking with English and foreign players.
"The Frenchmen tend to stay together when we eat and in the changing room. It is logical and only human. But I try to talk with others in English, even with the media."
Not easy
He added: "It is not easy to come to a new country. You are far away from your family. You have to be mentally strong.
"I think I am mature enough for England. It is the perfect moment now - I am 26 years old. I could not wait too much longer."
Giroud says he puts pressure on himself to perform in front of goal and is determined to keep improving.
"Unconsciously maybe I put myself under more pressure," he added. "I think I can be honest with myself.
"I still feel a bit of tension when it is time to score, a lack of success. It is so tiny.
"But I've made good runs, I've already provided four assists and there is good support from my team-mates.
"You must not give up. You cannot be worried. I know what I have to do."