Michael Owen admits going down to win England penalties in 98 and 2002 World Cups
Michael Owen has admitted he was 'guilty' of going to ground to win England penalties in the 1998 and 2002 World Cups.
Last Updated: 11/10/12 11:29am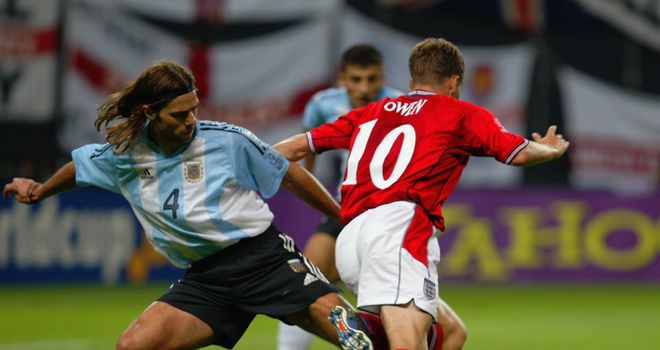 The striker, who is now with Stoke, went down under a nudge from Roberto Ayala in 1998 and under Mauricio Pochettino's challenge four years later to earn England spot-kicks.
With the row over Luis Suarez's theatrics and the antics of others still rolling on, Owen said: "It is in our game, it is happening so fast these days that it is virtually impossible to see whether there was contact.
"I'd say that 75% of people could stay on their feet for a penalty, and if they get touched and go down it is almost, 'hey got touched so it's okay to go down'.
"I have been guilty as well, I played at the 1998 World Cup against Argentina and I was running flat out, got a nudge, went down. Could I have stayed up? Yes probably.
"Then four years later you [Collina] gave me a penalty again against Argentina. Again, I could have stayed on my feet, the defender's caught me and I did have a decent gash down my shin from it but I could have stayed up."
Totally against
Owen argued that enticing a challenge from a defender that caused a foul in the penalty box was a skill.
He added: "It's a very difficult subject to talk about especially to people who have not played the game. There is a major skill in trying to outwit an opponent.
"For the actual player one against one, you're trying to draw people, to commit them, to get into the box because you know as soon as you have got them in the box they are petrified of sticking a leg out or doing anything. It is a skill to get them one on one or isolated.
"No one is for blatantly diving, of course they are not, but there is a part of a striker that actually tries to entice the leg to come out to try to win a penalty.
"It is a skill and it has been done for years and years and I don't think it will ever leave the game.
"I'm totally against diving, I have never been for it or sought to get a penalty without being touched, but you try to push the boundaries to win a game for your team without cheating."