Liverpool boss Brendan Rodgers backs goalkeeper Pepe Reina to find best form
Liverpool boss Brendan Rodgers has offered his support to goalkeeper Pepe Reina to recapture his best form.
Last Updated: 11/10/12 11:27am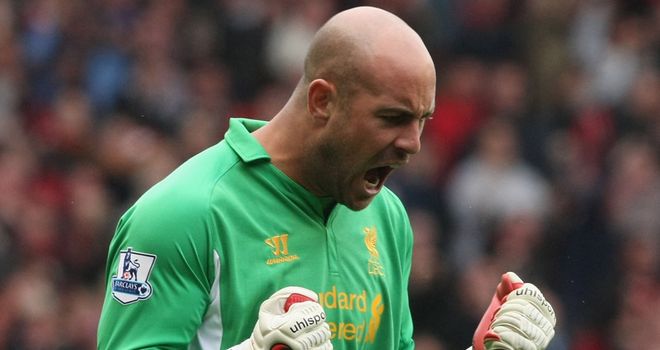 Reina has endured a mixed season to date with a number of uncharacteristic mistakes in the games against Hearts, Arsenal and Norwich this term.
Rodgers is not concerned about Reina's form and says he has been impressed by the Spaniard since his arrival at Anfield.
"I can't speak highly enough of Pepe," Rodgers told the Liverpool Echo. "He's a keeper who has really impressed me. He's a good guy who comes in and works hard every day.
"Like all the other players here he's trying to improve and become a better player.
"Pepe has been here for a number of years and has proved himself over a long period of time.
"He's obviously adapting to a new style but this is a way of working which is perfect for Pepe.
"He came through the Barcelona model so he understands this way of playing and what I'm trying to do perfectly.
"He's working very hard to get in the best possible moment in his game.
"As a team, we just need to cut out the kind of mistakes we've been making. If we do that then everyone will benefit from that, including Pepe."