Football Association chairman David Bernstein says sanctions for racial abuse will be reviewed after John Terry case
Football Association chairman David Bernstein has promised the level of sanctions for racial abuse will be reassessed.
Last Updated: 23/10/12 6:48pm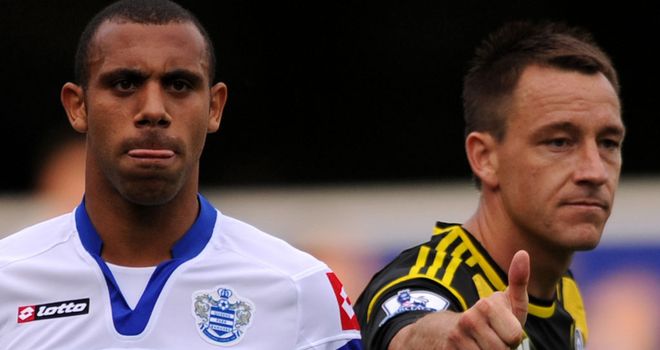 Many players are unhappy at the limited action of the sport's governing bodies in dealing with racism and on Tuesday it was revealed that talks had begun on setting up an association for black footballers.
The FA has been accused of leniency after Chelsea skipper John Terry was banned for four matches and fined £220,000 for racially abusing QPR's Anton Ferdinand.
With no fixed sanction for racism under FA rules, Bernstein said: "It's on the agenda to look at it again.
"The FA received a certain, probably limited degree of criticism for its processes in the Terry thing. We will look at that.
"I think the tariffs will need looking at but given the existing scenarios and given other punishments elsewhere actually the commission got it pretty much right."
Any rule change would have to be proposed by the Football Regulatory Authority and could not be introduced until the start of next season.
Bernstein also strongly defended the anti-discrimination body Kick It Out after several players including the Ferdinand brothers and Reading striker Jason Roberts refused to wear T-shirts endorsing the campaign.
And with talks having reached a "preliminary stage" over the formation of the Black Players' Association, Bernstein was sympathetic with the protestors' attitudes but hoped they remained within Kick It Out.
"We have to understand on moral issues people have to be able to make their own choices," the former Manchester City chairman added. "But I hope it doesn't lead to a fragmentation, in the interests of everybody.
"I have great respect for all the parties, for Anton Ferdinand and Rio Ferdinand. Of course I understand their sensitivities. They have had a pretty rough time. Anton has had a very difficult time as has had his family.
"The fact this thing has taken so long - even though I would justify the process - certainly hasn't helped. I'm uncomfortable that people feel uncomfortable, I feel that overall the FA has handled recent issues, not just John Terry, actually very well.
"We support Kick It Out in every respect both morally and financially. I have got to know the chairman Lord Herman Ouseley and he has done fantastically well.
"He has given me a very hard time even in my first week as chairman, and has been very tough with us but always been very fair."