Ajax coach Frank de Boer targets three points against Manchester City
Ajax coach Frank de Boer is targeting all three points at home to Premier League champions Manchester City on Wednesday.
Last Updated: 23/10/12 6:22pm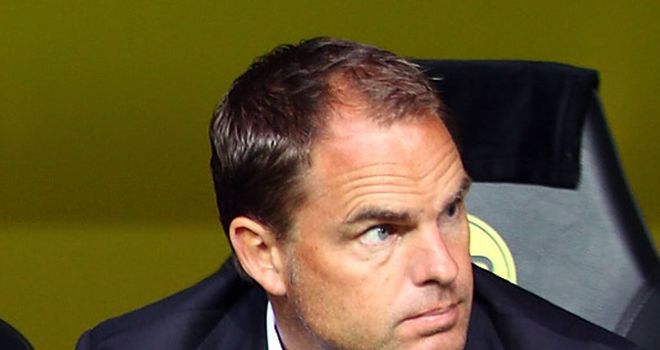 The four-time European champions have already lost both their opening Group D matches against Borussia Dortmund and Real Madrid.
And De Boer recognises the importance of the game at the Amsterdam Arena against Roberto Mancini's men, who have collected just a solitary point from their opening two matches.
"If you want to stay in Europe after the winter break, whether in the Champions League or Europa League, we need a result tomorrow," admitted de Boer.
"We believe in it. The Real match was a poor match for us and in the Borussia Dortmund game we were unlucky. Tomorrow is different.
"Manchester City are a good team but we have a good team as well and we have faith in a good result."
The 42-year-old also claimed he was not jealous of City's vast wealth and says he is happy with the more modest means available to him at the Dutch champions.
"They do nothing illegal, they can do that," said de Boer. "We have no money like that so we have to be inventive and creative and we try to use our academy to get good development of young players. That's how we survive.
"I like it more that way than just buying them, even though that's much easier. It's a philosophy. We have a different philosophy."
Ajax go into the game on the back of a disappointing 3-3 draw with Heracles and City have not yet reproduced the form that powered them to the Premier League title last season.
But De Boer added: "Manchester City are still at the top, with a lot of players who still play for their own national teams.
"Take the four strikers together and they still cost more than the annual turnover here.
"They have proved their qualities already and no matter who is playing for them they are always a tough team to play against.
"It is always difficult to put your finger on why they are not performing as they are in the Premier League.
"Everything can change suddenly but hopefully they are not going to hit that form here."