Sir Alex Ferguson praises Manchester United full-back Rafael's progress
Sir Alex Ferguson believes Rafael is capable of emulating Gary Neville's career at Man Utd after praising the full-back.
Last Updated: 04/11/12 1:42pm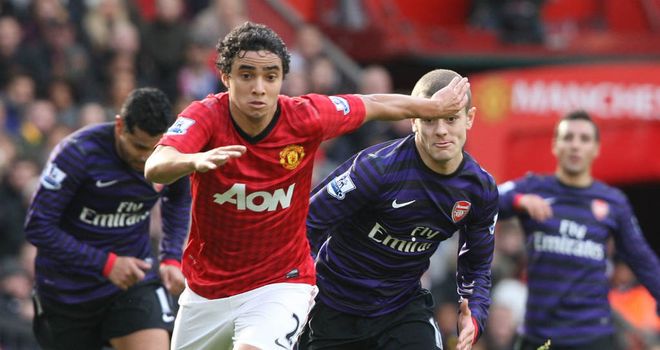 Rafael has cemented his position as United's first-choice right-back and has been one of the Premier League leaders' best players so far this season.
Ferguson feels the 22-year-old has shaken off the impetuous streak which characterised his early days at United and now has the potential to enjoy lasting success at Old Trafford.
"He's been fantastic," said Ferguson of the Brazilian. "He had the rashness, the impetuosity of a young boy. He's a Brazilian, he loves the game, he trains like a beast, never misses training and is a football fanatic.
"When he goes home in the summer, he goes into his street team and plays every day back in Brazil. It's phenomenal.
"We were hoping somewhere along the line that maturity comes along and the rashness disappears and his form this season has been brilliant.
"He can develop the kind of career Gary had, definitely. Gary was not the finished article when he came into the team but he became a fantastic full-back - probably the best the club has ever had.
"But it did take time for him in terms of his use of the ball and his crossing. All of these things develop because he wanted them to develop and he worked hard at it.
"We invest in young players' futures and we get repaid at some point. And that's what's happening with the boy."